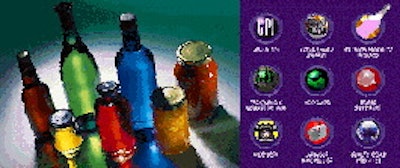 last year for pharmaceutical packaging?", almost always log off without the numbers they are looking for. That's because that kind of information-market statistics-is rarely part of the Web's gratis offerings. If you want good packaging market statistics, a dozen well-placed phone calls will still outpull two hours of Internet surfing.
There are exceptions. To get the most out of the World Wide Web (WWW), and preserve your peace of mind, don't think of it as a treasure trove of data to be mined. Instead, be prepared to encounter a lot of promotional hype and PR palaver. Nevertheless, an Internet search for packaging data can turn up some useful information:
Excellent (or at least as good as it gets) production and shipment data on glass containers is available from the Department of Commerce's Census Bureau by logging on to http://www.census.gov/ftp/pub/industry/m32g9611.txt. For the Food & Drug Administration's take on health-related issues-President Clinton's call for improved food processing and packaging standards, for instance-go to FDA's "What's New?" page at http://www.fda.gov/opacom/hpwhats.html.
The Glass Packaging Institute site (shown above), located at http://www.gpi.org, showcases some of the newest glass containers (but doesn't credit designers or manufacturers). At the Closure Manufacturers Association site you can order standard closure drawings for a couple of dozen metal or plastic caps at http://www.gpi.org/cmafins.htm.
By and large, however, the Web is a better place to locate suppliers and resources than market data and technical specifications. Be aware that the Web and the real world are two different realities. In the real world Crown Cork & Seal (Philadelphia, PA) is the largest packaging supplier anywhere. Not on the Web. In fact, CCS doesn't even have a home page. Nor does Silgan Containers Corp. (Woodland Hills, CA), now the largest producer of steel food cans in North America.
Among canmakers who are on the Web you'll find that Ball Corp. (Muncie, IN) at http://www.ball.com is the most diversified, with operations spanning aluminum beverage cans, steel two- and three-piece food cans, PET bottles and several continents.
Another major canmaker with a presence on the web, Reynolds Metals Co. (Richmond, VA), has what I consider one of the most useful Web sites at http://www.rmc.com. There, you'll find details on its two-piece can making operations, a comprehensive table of current Reynolds can specs from 5.5 to 32 oz in capacity, and a lot more. At http://www.packnet.com/aboutPMMI/profile.htm, part of the Packaging Machinery Manufacturers Institute's site, you can find some U.S. packaging machinery sales volume and market data as well as a complete list of PMMI member contacts.
Naturally, if it's a bit of data-a company name, material specification, line speed, market introduction, etc.-covered by Packaging World in the last year or so, you can find it by searching the magazine's archives at https://www.packworld.com. There, you'll also find one of the most comprehensive lists of packaging-related associations anywhere (103, last time we counted), including addresses, phone and fax numbers, and e-mail addresses. At our own site, http://www.packmgmt.com, daily packaging headlines are the prime menu fare.
Want to locate a packaging supplier? A helpful Web resource is AOL's Switchboard(TM) people and business directory, at http://switchboard.com. (You can use this site even if you're not an AOL subscriber.) Enter what you know about your target and Switchboard will often find them.
Alta Vista (http://altavista.digital.com), or one of several other business Internet "search engines," will usually bring up hundreds, even thousands of possible sites for you to visit. But scanning the list of presented sites for what you're looking for is a lot like using an unabridged, unalphabetized dictionary.
A recent Web search for "ICI" where we hoped to get information on Kaladex® polyethylene naphthalate film from ICI Americas (Wilmington, DE), turned up 60ꯠ possible sites. Turns out ICI is something called the Interactive Curriculum Institute, the Instructional Computing Initiative and dozens of other things. If you're interested in PEN film and label stock, you'll avoid the trouble I had by logging directly on to http://www. icipolyester.com/kaladex.htm.
To a large extent the packaging neighborhood of the World Wide Web is a work in progress. Every day someone new moves into the neighborhood. In two years of surfing, we've barely scratched the packaging surface and listed here only the smallest fraction of what we've found. Have you had better luck? Send an e-mail to editors@packworld.com with your favorite WWW packaging sites. We'll check them out and publish your best picks in a future column.
Companies in this article