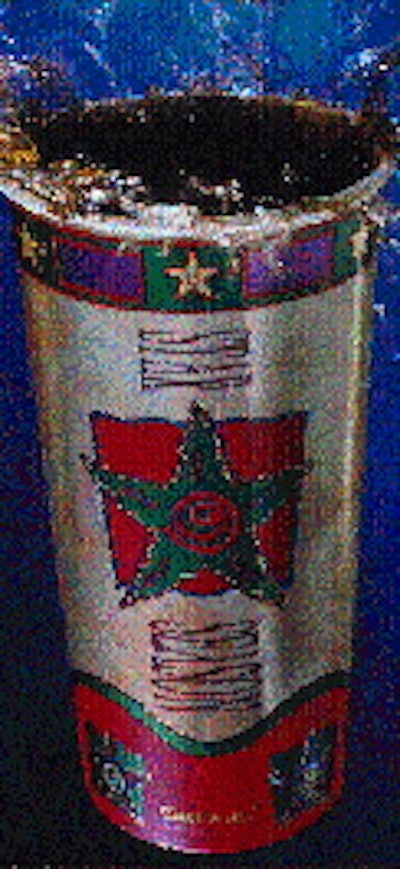 Carl Karcher Enterprises, Anaheim, CA, became the first to use a beverage cup made by a multi-patented converting process. Beginning last Thanksgiving, and continuing through the '94 holiday season, some 650 of its Carl's Jr. West coast fast food restaurant outlets sold one million 32-oz beverages in cups formed by Dopaco (Downington, PA), using Graphic Packaging's (Wayne, PA) Com-posiCup(TM) process. "We wanted a festive cup with a foil look," says Linda Larsen, manager of sales promotion for the fast food chain. "We've never sold beverages in a paper cup as elaborate as this one. Dopaco gave us the opportunity to market a beautiful cup using Graphic Packaging's process, with little incremental costs. We're always looking for a way to differentiate ourselves in this competitive marketplace, and ComposiCup certainly fills the bill. It looks fantastic." The cup features an array of star shapes, sizes and colors, with the words "Star Season" in two places. The Carl's Jr. name is repeated near the base of the cup, though in small lettering. From the inside out, the material used for the Carl's Jr. cup includes 75-ga low-density polyethylene laminated to a 16-pt SBS board that incorporates extra-long fibers with a high moisture content to prevent cracking during cupforming. GP uses 0.75 mils of LDPE to laminate the boardstock to metal/lacquer/seven-color reverse-print by gravure/1-mil LDPE. The lacquer, applied at an eighth printing station, provides a good tack for the metallization. By burying graphics beneath the outer LDPE layer, the print is protected from abrasion and scuffing that can occur during shipping and storage. Graphic Packaging slits the 44 1/2"-wide webs of printed, metallized, laminated material into individual cup blanks. Blanks are shipped to Dopaco where existing equipment forms the cups. Of course, this container isn't a typical "package," but the process derives from GP's Composipac(TM) method, previously used for folding cartons and flexible packaging. The ComposiCup process can work with canister forming equipment for applications including ice cream, snacks, drinks and soups.
Companies in this article
Videos from Graphic Packaging Intl.