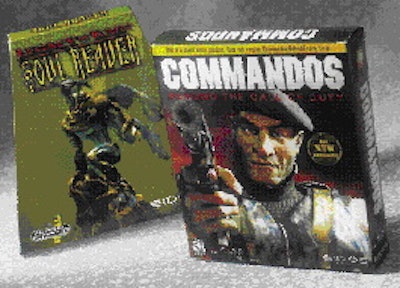 CD-ROM publisher Eidos Interactive is known for its popular computer game titles like Tomb Raider II and Commandos. But Eidos doesn't play games when it comes to marketing its titles to prospective customers. In the last six months, the San Francisco-based firm has armed its sales force with visually stunning package comps created digitally by Preview Graphics (Irving, TX).
"These package comps are shown to potential buyers of our products. They represent the first step in the process of trying to move our product into the market," explains Jo Kathryn Reavis, Eidos' production and purchasing manager.
Using digitally produced graphics for package comps isn't new to Eidos, a division of Eidos plc in Wimbledon, England. "We'd been dealing with another company that digitally produces comps," says Reavis. "We used them to produce several comps for us, but their pricing was very expensive. We received literature from Preview and they followed up at a time when we were prime for the picking," she admits. "We made the switch to Preview, and we now receive higher-quality work for about half the price of what we had been paying" with the previous vendor. Per-comp prices vary, costing between $50 and $100, she notes.
Strong graphics, quick turnaround
Eidos, says Reavis, has no internal graphics department. Instead, it works with local design firms. "We're able to get mock-ups from our designers, but they're never going to look like a product would when it's printed [as do the digitally produced comps]. The designers just don't have the technology or the equipment to be able to do this. This is where Preview offered us something different.
"They're able to send us samples that we can look at, make changes to and then have them send us revised versions," she adds. Reavis says that in at least one instance, "Preview produced a finished box for us in 24 hours, which is unbelievable."
Previewing the process
Eidos' design consultants send discs to Preview Graphics. The disc is loaded into a Macintosh G3 computer. The computer opens these large files through a Rip-N-Color Raster Image Processor system. The files are formatted and printed over a network to a Xerox color printer/copier. The copier produces a high-quality image onto specially formulated paper. The patented paper is coated on the side that receives the image. For Eidos, a 12"x18" paper size is used.
The printed paper carrying the reversed image is placed on a knocked-down 18-pt chipboard, acquired through various local suppliers. The image is transferred from the paper to the board through the use of heat and pressure in the Preview 500 workstation. The Preview system transfers only the toner, not any adhesive. That results in a strong image, according to Preview Graphics.
The digital technology was developed by ISO Developments Ltd. in Sandy, Berdfordshire, England. Preview says it bought from ISO the rights to use the technology and to sell it in North America. It is also available through Xerox.
So while Preview Graphics does use the technology to produce anything from brochures to three-dimensional package designs for customers such as Eidos, it also sells the equipment, training and starter kit for $19귔, primarily to design firms or larger companies.
The printed board for Eidos is either hand-scored or sent out for die-cutting. The machine is able to print on films, cartons and labels. For Eidos, Preview has produced metallic effects, glossy and matte fin-ishes. Eidos is also considering embossing and debossing.
Once Eidos approves the mock-up, it assigns commercial printing to Shorewood Packaging (New York, NY). Shorewood offset-prints in four to six colors the 24-pt SBS board used for Eidos' game boxes sold at retail. A contract packager whom Reavis prefers not to identify assembles and loads the product into these boxes.
Reavis says Eidos has been pleased with the Preview comps. "They send us finished boxes," she says. "The comp is a high-end box that we use to communicate our product to the field. We usually only produce between 25 and 30 of these, because they are expensive. These boxes would never be sold at retail.
"Our sales people and customers have been very receptive to these comps," Reavis concludes. "It's absolutely helped us sell more customers because it's another tool. With the Preview comps we have a wider variety of [graphic] treatments for our boxes than we did with our previous digital comp vendor. Preview is going to be doing all of our boxes. We probably have another 12 titles to release this year." (JB)
Companies in this article