In June 2020, CPA presented three webinars designed to help contract packagers and manufacturers (CP/CMs) during the current COVID-19 crisis. All are available here. They include:
·     "Contingency Plan Response™ - Helping Business Leaders and Organizations to Adapt and Thrive in the Face of Uncertainty": Ryan Weiss, President of Effective Performance Strategies, and Dr. Dave NieKamp, a licensed clinical psychologist, share their best steps to help your business acclimate and prosper in this time of crisis. Due to COVID-19, CP/CMs now more than ever need to focus on how to adapt and thrive in the face of crisis. Everyone has experienced significant disruption, and the time for creating new habits starts now. Watch this webinar replay to learn the four steps of leading through challenging times and the tools to navigate the new, complex environment we live in now.
·      "Outbreak Readiness and Improving Resilience in Supply Chains": In this webinar, presented by CPA along with F4SS and Nulogy, panelists share insights into lessons learned from the COVID-19 outbreak, how they have adapted their operations to prepare for a potential second wave, and how they're readying their businesses for increased resilience to guard against any future disruptions in their global supply chains.
·      "Transcending Disruption: Driving Consumer-Centric Packaging and Product Innovation": In a competitive market, where innovative packaging and products can differentiate brands, influence shoppers, and drive growth, understanding the trends that will most impact consumers and your market is critical. This is even more important as consumers shift their behavior and expectations due to COVID-19. In this webinar, Phil Roos, CEO of Great Lakes GrowthWorks, and Brian Wagner, co-founder and Vice President of PTIS LLC, highlight the big trends you can leverage to create packaging and product innovation that truly disrupts and provide approaches to develop this disruptive innovation.
CPA Welcomes Board Members
In March 2020, CPA announced the results of its Board of Directors Election. Join us in congratulating those Regular CPA members voted to the CPA Board of Directors. Among them are Michael Collins, Vice President, Sales & Marketing for Sterling Contract Packaging, Inc.; Jennifer Cusick, Director, Sales Operations, for Trividia Manufacturing Solutions; and Rob Reinders, President of Performance Packaging of Nevada.
Elected to the board for the first time, Collins has been with Sterling Contract Packaging for 18 years, during which time the company has experienced incredible growth, building a 150,000-sq-ft state-of-the-art facility in 2016. Collins became involved with the CPA in 2007 and most recently helped with the development of the new RFQ tool on the CPA website.
Also newly elected is Cusick, who has 30-plus years of sales, technical, and management experience in various industries, most recently in the manufacturing of EPA- and FDA-regulated consumer products. She has been with Trividia since 2010.
Reinders, who has been re-elected to the CPA Board of Directors, has more than 30 years of knowledge in the production, operations, and sales/marketing of flexible packaging products throughout the flexible packaging industry. Reinders founded and has been the President of Performance Packaging since January 1995, founded and has been President of Performance Machinery Corporation (PMC) since January 2015, and founded and has been CEO of RCR Beverages dba Blue Kangaroo Contract Filling Services since January 2015.
Why Use a CP/CM?
When choosing a CP/CM, you are developing a partnership. A CP/CM partner must be able to complete your project at a competitive cost aligned with your time schedule with quality assurance. They may also solve common problems faced by startup businesses, including limited production facilities, concerns about equipment investments, personnel training, and more.
There are so many reasons brand owners and CPGs might turn to a CP/CM, and potential customers may have a lot of questions. In addition to promoting the CP/CM industry as a whole, CPA has created a brand-new video for its members to share with potential customers to help them decide if using a CP/CM is right for them.
Current CPA members can contact CPA to learn how to host this video on their company website. Find the video here.
CPA Announces 2020 Scholarship Winners
This year, CPA has awarded a total of $5,000 in scholarships to four worthy students studying packaging or business-related fields. Congrats to the winners: Jack Kelly, Ryan Nielson, Claire Frain, and Lance Legere.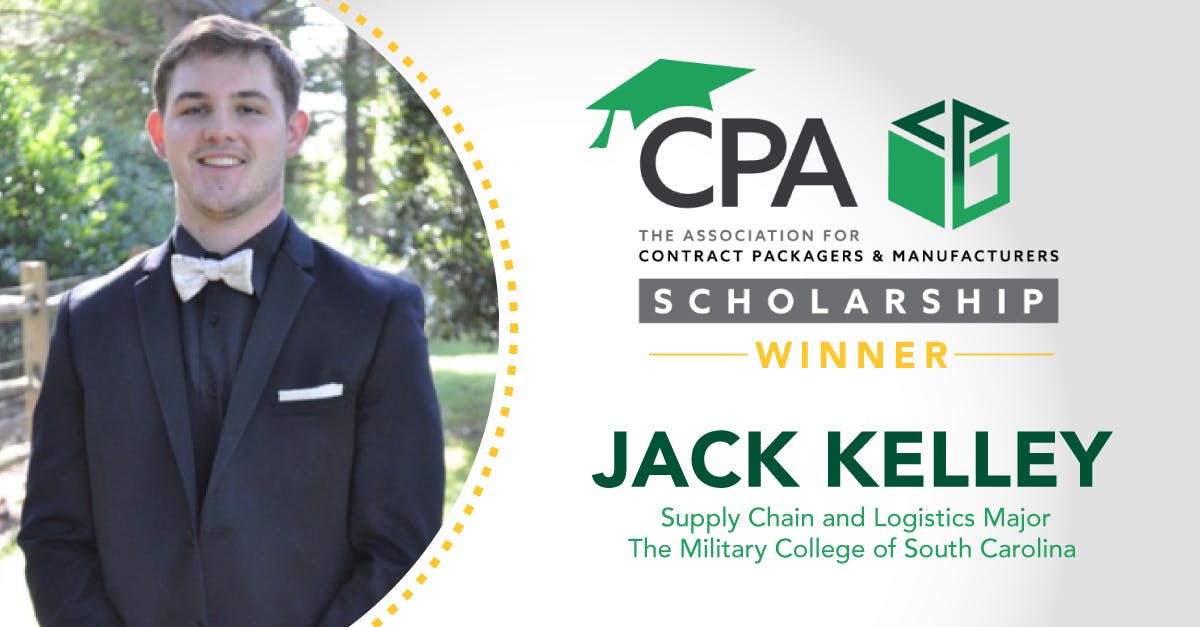 Jack KelleyKelley is working toward a supply chain and logistics degree with a minor in economics at The Military College of South Carolina. He will be entering his sophomore year in the fall. Kelley intends to be involved with internship opportunities to stay connected to the Charleston business community and hopes to also travel outside of the U.S. in order to expand his knowledge. When he completes his degree, Kelley hopes to enter the supply chain and risk management field.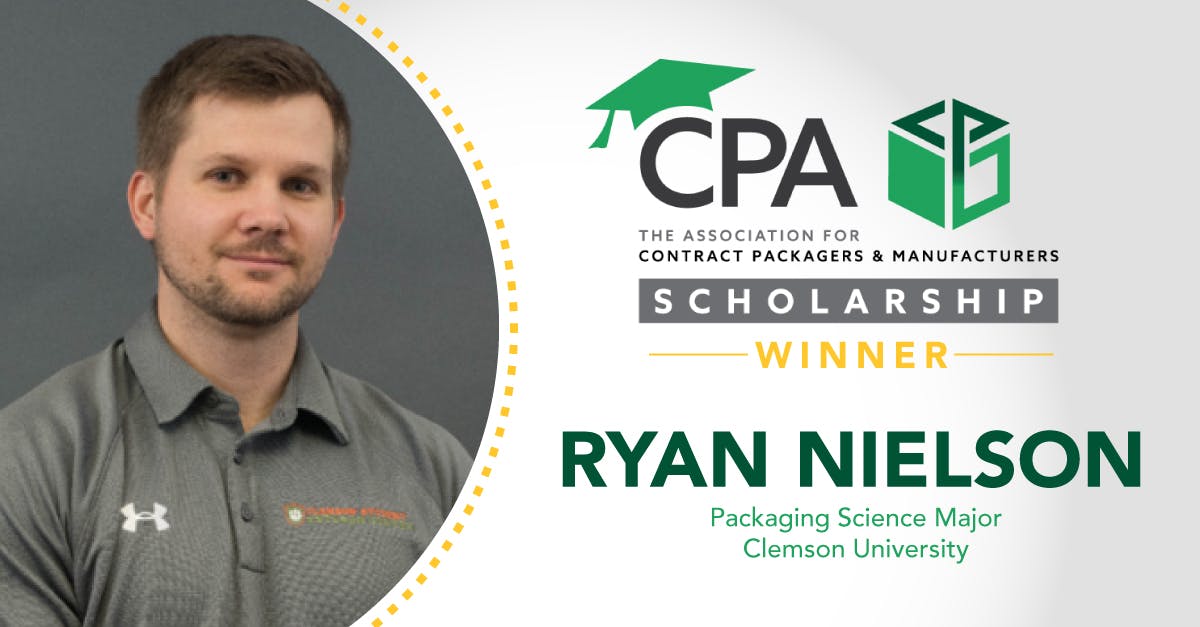 Ryan NielsonExpecting to graduate in December 2020, Nielson is working toward a packaging science degree at Clemson University. Nielson is passionate about finding new ways to solve old problems in a way that harmonizes the collective goals of sustainability and functionality. He wants to think ahead of the market and give the consumer the innovative packaging they need before they're aware of it. Upon graduation, Nielson plans on pursuing a career in flexible or corrugated packaging that is solution driven.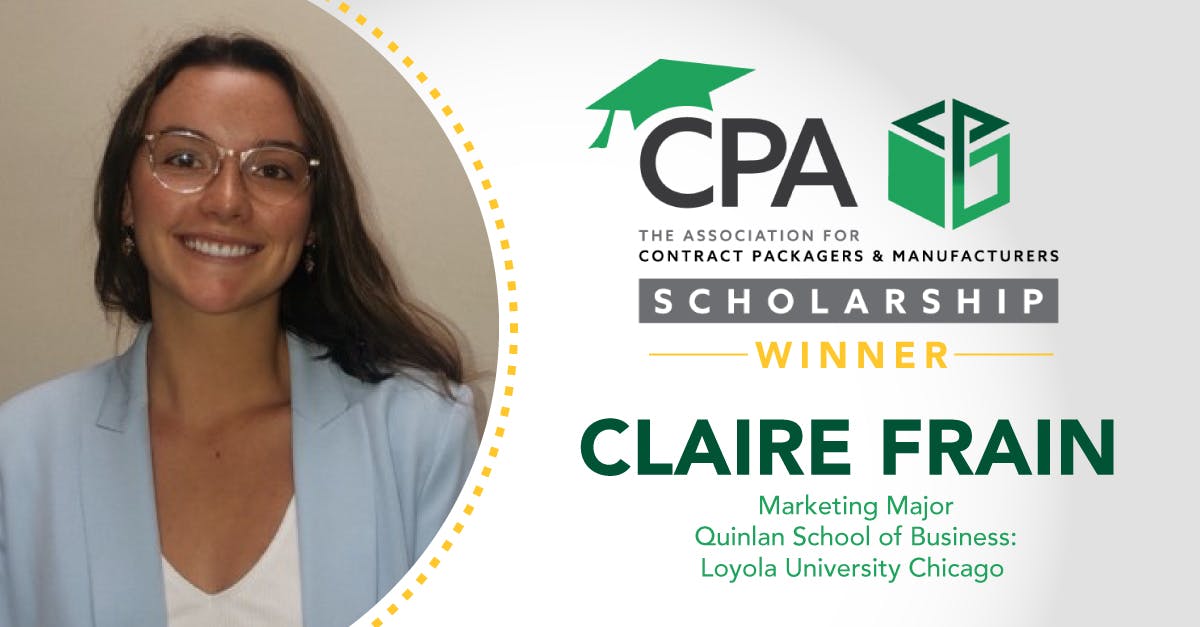 Claire FrainFrain is working toward a marketing degree at Quinlan School of Business: Loyola University Chicago. She is entering her junior year in the fall. Currently working three days a week as a digital marketing specialist in the packaging industry, Frain is focusing on finishing school with a high GPA and solidifying lasting connections with her professors to help her achieve her future career goals.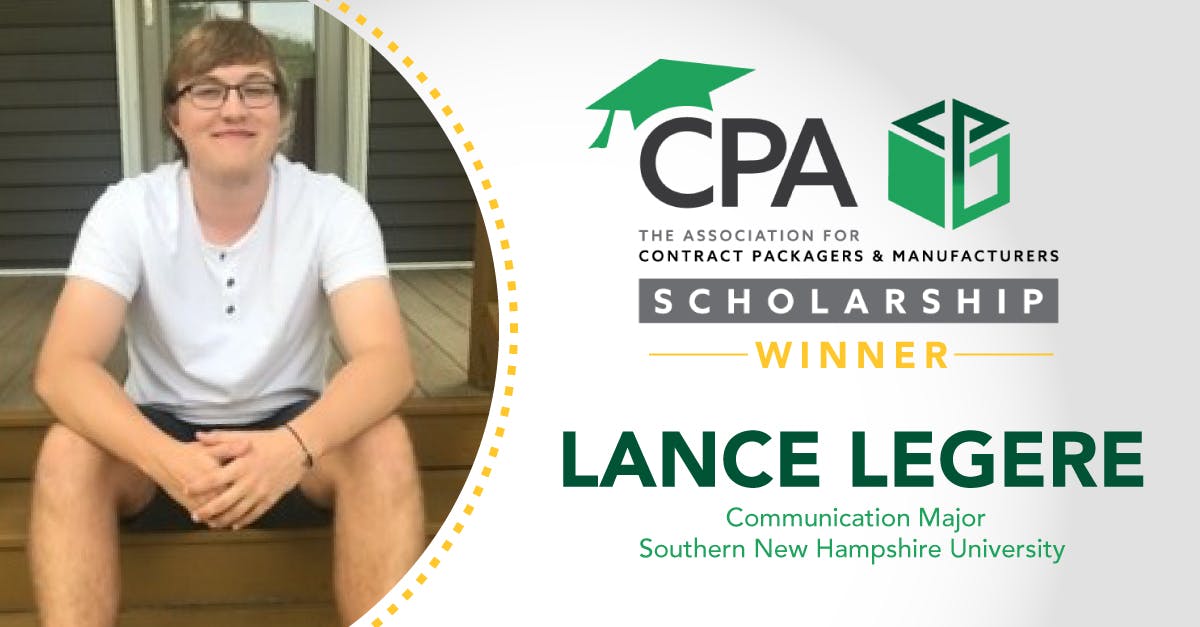 Lance LegereLegere is working toward a communications degree with a minor in sports management from Southern New Hampshire University. He will be entering his senior year in the fall. From a young age, Lagere has had a passion for broadcasting. Once in high school, he solidified his passion by taking a class that allowed him to write sports articles for a local daily newspaper and also called high school sports games on a local radio station. Upon graduation, Legere plans on pursuing a career in sports broadcasting.
More information on CPA scholarships is available here.
Upcoming Events
Don't miss CPA, The Association for Contract Packagers and Manufacturers, at these upcoming industry events:
PACK EXPO International

Nov. 8-11, 2020

PLMA
Nov. 15-17, 2020
Chicago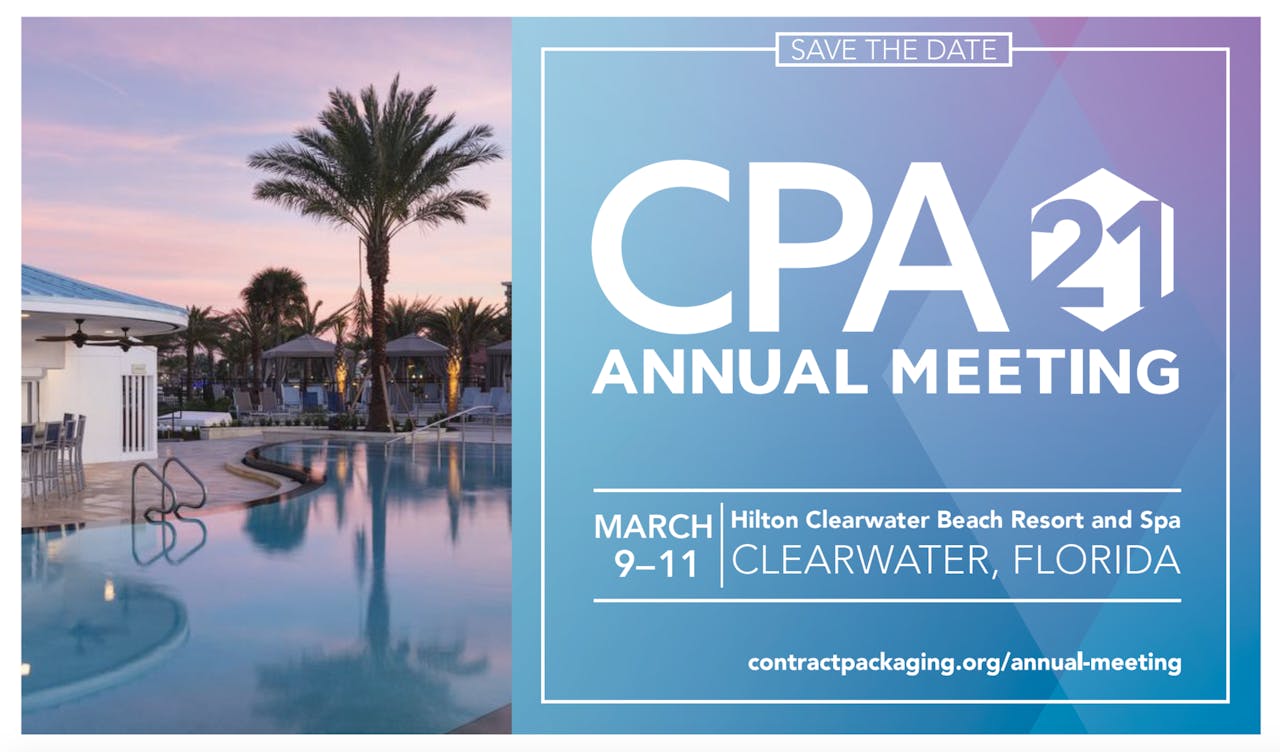 The 2021 CPA Annual Meeting Dates are set! Join CPA in Clearwater, Fla., March 9–11, 2021.