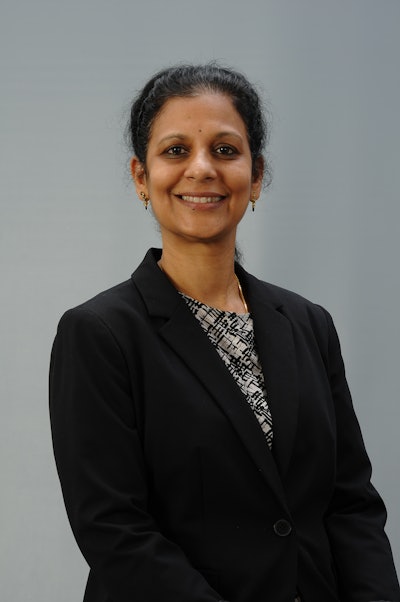 Tell us about your background and how you got into the packaging industry.
I received my M.Sc. in Chemistry and M.Tech. in Polymer Science & Technology from Indian Institutes of Chennai and Delhi respectively. I received my Ph.D. in Polymer Science & Engineering from the University of Massachusetts at Amherst. Prior to joining PepsiCo in 2010, I was technology manager/principal scientist for a big bet project at Ashland Performance Materials. My research interests are in the areas of materials science and chemistry. At Ashland, I had the opportunity to work on different chemistries developing polymers for water treatment, radiation-curable resins, laminating adhesives for packaging and a novel floating tile floor technology resulting in several patents and publications.
I started my career at PepsiCo looking at ways to find more value-added applications for by-products like oat hulls and orange peels. More recently, I am leveraging my extensive experience with different polymer chemistries to identify and develop bio-based materials for sustainable flexible packaging in all end-of-life environments.
What is the most rewarding part of your job today?
As the director of global foods packaging at PepsiCo, the most rewarding aspect of my job today is witnessing the tangible impact of our sustainable packaging initiatives on a global scale. Every day, I am inspired by the fact that our efforts are making a significant difference in reducing our environmental impact and advancing the cause of circular economy.
Being able to lead a team of talented individuals who share the same passion for sustainable packaging is truly fulfilling. Collaborating with cross-functional teams, we continuously push boundaries and explore innovative solutions that not only meet the highest standards of product protection and consumer experience but also align with our commitment to environmental stewardship.
Moreover, the opportunity to contribute to PepsiCo's broader Pep+ sustainability goals and be at the forefront of driving positive change in the packaging industry is immensely gratifying. Knowing that our work is not only benefiting the present but also shaping a more sustainable future for generations to come gives me a sense of purpose and fulfillment that is unparalleled.
What are some of the challenges that you have faced as a woman in a male-dominated industry?
I started my career in a specialty chemical company where there were not too many women in R&D. Adding to the fact that I am a first generation American who had a baby in the first year of my job, I had to go the extra mile to prove my worth and value to the company. Balancing work and personal life can also be demanding, given the high-paced nature of the chemical and packaging industry.
However, I was blessed with managers and mentors who helped me achieve my full potential given the challenges of balancing career with motherhood. I have continued to have good experiences at PepsiCo where I have been challenged with finding solutions to important problems that can impact the company and the world.
I firmly believe in the importance of diversity and inclusion in driving innovation and success and am proud to work for an organization like PepsiCo that is committed to fostering a diverse workforce and creating a collaborative, equitable and inclusive space where everyone has a voice. I am inspired by the progress made and the trailblazing women who have paved the way before me. I am committed to breaking barriers, fostering positive change, and creating a more inclusive industry where women can thrive and make significant contributions.
What are the unique opportunities for women in this industry?
In the packaging industry, there are unique opportunities for women to excel and make a meaningful impact. As the industry recognizes the value of diverse perspectives, women can bring fresh ideas, creativity, and innovation to the table, driving positive change and pushing boundaries.
Furthermore, there is a rising recognition of the importance of diversity and inclusion in fostering a dynamic and successful work environment. Companies are actively seeking to increase female representation in leadership positions, opening doors for women to assume key roles and influence strategic decision-making. By embracing these opportunities, women can make significant contributions and pave the way for future generations.
What do you think are some of the key factors that have contributed to your success in the industry?
Several key factors have contributed to my success in the packaging industry. First, my relentless pursuit of knowledge and continuous learning has played a crucial role. Staying abreast of the latest industry trends, emerging technologies, and consumer insights has allowed me to make informed decisions and drive innovation.
Second, my ability to build and nurture strong relationships has been instrumental. Collaborating with cross-functional teams, industry experts, and stakeholders has fostered a supportive network that fuels growth and opens doors to new opportunities.
Another factor is my passion for sustainability. Recognizing the importance of responsible packaging solutions, I have actively sought to drive positive change and develop environmentally friendly alternatives. Additionally, being flexible and embracing change has been crucial. The industry is dynamic, with evolving consumer expectations and technological advancements. By embracing change and adapting to new circumstances, I have been able to stay ahead of the curve and lead innovative initiatives.
Finally, the support and encouragement from PepsiCo, which values diversity and empowers its employees, has been pivotal. The company's commitment to fostering an inclusive culture and providing opportunities for growth has provided a solid foundation for my success.
What has been the most important skill you've developed as you advanced your career?
As I advanced in my career, one of the most important skills I have developed is strategic thinking. Strategic thinking encompasses the ability to analyze complex situations, anticipate future trends, and make informed decisions that align with long-term objectives. This skill has been instrumental in driving the success of my team and shaping the direction of PepsiCo's packaging initiatives.
Strategic thinking allows me to assess market dynamics, consumer preferences, and emerging technologies to identify opportunities for innovation and sustainable growth. It involves a holistic approach, considering not only the immediate challenges but also the broader impact and implications of our actions.
By honing this skill, I have been able to navigate complex industry landscapes, anticipate market shifts, and lead my team in developing forward-thinking packaging solutions that meet consumer needs and align with our sustainability goals.
What can the industry do better to support women and increase the number of women in leadership positions?
To better support women and increase the representation of women in leadership positions, the packaging industry must first foster a culture of diversity and inclusion. Companies should actively promote and prioritize gender equality, ensuring that all employees have equal access to opportunities, resources, and career advancement. For example:
Mentorship and sponsorship programs tailored specifically for women can be implemented to provide guidance, support, and networking opportunities.
Flexible work arrangements and policies that accommodate work-life balance are essential. By offering flexible schedules, remote work options, and parental leave policies, the industry can create an environment where women can thrive professionally while balancing personal responsibilities.
Creating awareness and challenging unconscious biases is another vital step. Training programs that address bias, promote inclusivity, and provide education on gender equality can contribute to a more equitable workplace.
Furthermore, establishing clear diversity goals and metrics, along with accountability measures, can drive progress. Regularly tracking and reporting diversity data can help identify areas for improvement and encourage companies to take meaningful action.
By fostering an inclusive and supportive environment, providing mentorship, implementing flexible policies, and promoting gender equality, the industry can pave the way for more women to assume leadership positions and contribute their valuable perspectives and talents.
Has there been a woman in your life who has inspired or mentored you? Who was she and what did you learn from her?
While I have had the fortune of having one of our most senior scientists, who happens to be a man, as a mentor during my tenure at PepsiCo, I have also been influenced by strong women in my life including my grandmother. She faced many adversities in life but faced them with courage and a cheerful attitude all through life.
What advice would you give to young women who are considering a career in packaging?
To young women considering a career in packaging, my advice would be to pursue your passion fearlessly and embrace the endless possibilities this industry offers. Here are a few key points to keep in mind:
Believe in yourself: Recognize your worth and the unique perspectives you bring to the table. Trust in your abilities and never underestimate the value of your ideas and contributions.
Seek knowledge and continuous learning: Stay curious and committed to expanding your knowledge. The packaging industry is constantly evolving, so invest in continuous learning to stay ahead of the curve and embrace emerging trends and technologies. We are all lifelong learners.
Build a strong network: Connect with professionals in the field, both men and women, who can provide guidance and mentorship. Building a strong network will not only provide valuable insights but also open doors to exciting opportunities.
Be flexible and embrace challenges: The packaging industry is dynamic and presents its fair share of challenges. Embrace these challenges as opportunities.
In summary, think big, stay positive and do not be afraid to take risks.