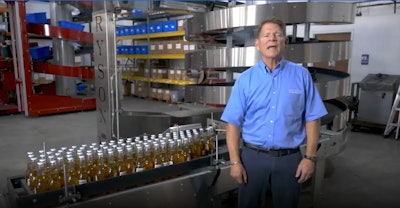 During PACK EXPO Connects, Ryson International demonstrated its Mass Flow Spiral conveyors, which are designed to handle full and empty bottles, cans, jars, and similar containers. Products are conveyed up or down in a continuous mass flow at a rate up to 2,000 units per minute. According to Ryson's Steve Dillaman, vice president of Sales, Spirals have a small footprint and provide considerable space savings compared to conventional methods.
The Mass Flow Spirals are based on Ryson's high capacity spiral technology. Only one drive motor is needed, equating to substantial savings in controls and systems integration, the company says. All Ryson Spirals are designed for low maintenance and long life and many spirals in the field operate 24 hours a day, 7 days a week, the company says. The Spirals are also equipped with special nesting slats which provide a flat and stable conveying surface without gaps. The Mass Flow Spirals utilize extended in and outfeed tangents to facilitate a smooth and reliable side transfer to and from the external conveyors.
An innovative modular design allows Ryson to customize with ease and modify in the field to accommodate emerging needs.
Companies in this article