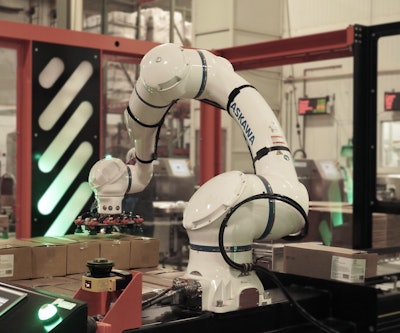 The Formic SL20 turnkey palletizer is the inaugural product in a new catalog of certified, off-the-shelf, robotics-as-a-service solutions available at a low cost per hr. Built by Sourcelink Solutions, Formic's new offering further underlines Formic's commitment to removing the barriers to automation, so that small to mid-sized businesses can onboard the technology and thrive amid today's challenges.
Available with all the benefits of Formic's pay-for-productivity model, including guaranteed uptime and 24/7 service, the SL20 eliminates a packager's reliance on human labor to fulfill orders, reduces the overhead cost of retraining and injuries, increases quality and consistency of output, and enables automation without major changes to physical factory layout or introducing new complex processes.
"U.S. manufacturing cannot survive without automation, and at Formic, we're focused on finding ways to make it ten times faster, easier, and cheaper to deploy a robot and increase productivity," says Formic Co-founder and VP of Product and Partnerships Misa Ilkhechi. "There are 1.5 million unfilled manufacturing jobs in America today, which means companies are losing production, missing deadlines, losing business, and turning down new business. Many of our customers have been trying to automate for years, and our already proven, first off-the-shelf product available with our pay-for-productivity model provides an optimal route to factories to start their automation journeys."
SL20 Palletizer - Key features:
Robotic palletizing system designed for end-of-line packaging processes
Small footprint (10'x12')
Palletizes up to 20 cases per min
Lifts up to 20 kg per cycle
Proven to safely work alongside people
Deployable in less than eight weeks
Built by Sourcelink Solutions LLC, based around the Yaskawa HC Series collaborative robot
Formic is offering first-time customers a "no strings attached" 6-month trial for the SL20 palletizer. For more information, visit Formic at PACK EXPO International 2022 Booth N5561, Chicago, Ill., October 23-26, 2022.
Companies in this article