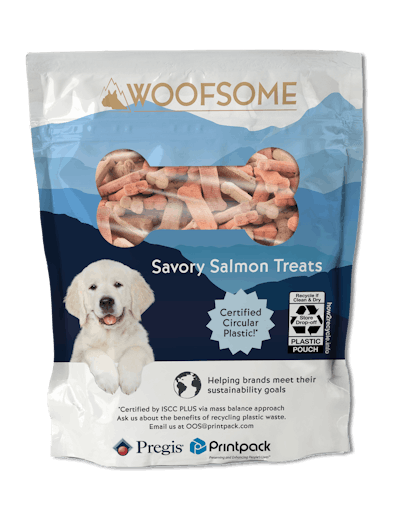 The film is made with ExxonMobil Exxtend™ recycled resin technology.
A heat resistant MDO PE print film is used in combination with the very low seal initiation temperature (SIT) Pregis sealant film to provide a wide processing window for SUP packaging equipment. The Preserve™ PE Advanced Recycled Content Polyethylene Pouch supports brand commitments to use recyclable packaging while helping meet the growing demand for flexible packaging products that enable a circular economy.
"We are proud to partner with Printpack to bring this first of its kind solution to the flexible packaging market. Both Printpack and Pregis share the ultimate goal of preserving the environment by driving towards a circular economy. We are confident that this advanced recycled content pouch offering will help brands exceed their sustainability goals," said Jonathan Quinn, Director, Market Development and Sustainability, Pregis.
"Printpack is excited to work with Pregis on this sustainable structure. We fully recognize the importance of working with partners to develop films that drive us to a circular economy," said Dave McLain, Senior Director, Sustainability for Printpack.
Advanced recycled resin technology helps expand the range of plastic materials that society recycles while maintaining the performance of products over multiple recycling loops. The structure is prequalified for the How2Recycle Store Drop-off label and meets the Association of Plastic Recyclers (APR) Design Guidelines for Flexible Packaging.