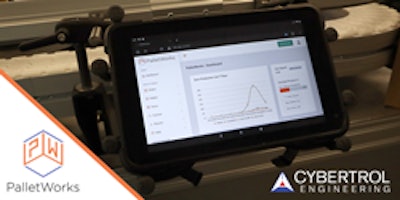 Cybertrol Engineering's PalletWorks is a subscription-based SaaS platform that intelligently bridges the gap between the manufacturing floor and the ERP system.
"PalletWorks not only integrates with packaging and labeling hardware on the plant floor, but also communicates with existing controls and ERP systems. This unrivaled and complete integration makes PalletWorks an ideal solution for increasing production accuracy and simplifying tasks at the end of the line, all through a single vendor," said Noah Glenn, product manager at Cybertrol Engineering. "The latest software version, PalletWorks 2.0, delivers continuous improvements and software updates, increases visibility to Cybertrol's support department for faster service, utilizes a modernized micro-services architecture for greater uptime, and has added security protection."
PalletWorks 2.0 includes everything required for an enterprise-level tracking and labeling solution. The web-based portal is the primary means of operation and is designed to be used on an industrial tablet or PC. It not only records, tracks, and labels items on a manufacturing line as they are loaded onto pallets, but also allows operators to bulk edit information and reprint labels before transferring data to the ERP.
Companies in this article