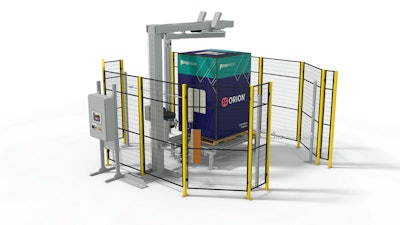 Orion Packaging Systems offers the most comprehensive line of end-of-line stretch wrapping pallet packaging products available. Styles include rotary turntable, rotary tower, orbital, and horizontal wrapping systems.
The S-Carriage brings several advantages to customers, including the ability to save up to 15% on film per load – a substantial savings to help offset the rising cost of film seen over the past year.

Launched in 2021, the S-Carriage improved upon what many consider to be the most important component of a stretch wrapper – the carriage. At the heart of the design are two pre-stretched rollers. Film travels in an S pattern around the rollers, providing over 180° of film contact to reduce slippage and neckdown. The result is a consistent pre-stretch of 260% at different tensions and 1 in. less neckdown. In other words, achieving this consistent level of pre-stretch means the customer can wrap faster while receiving better film yield; reducing film acquisition costs for shippers and improving end-user sustainability through less waste.

PACK EXPO attendees will be able to watch interactive animation videos of Orion's massive MA-DX LoPro Drag Chain Conveyor and Rotary Tower Automatic (RTC) Stretch Wrapper.
Developed specifically for the beverage industry, the MA-DX LoPro Drag Chain Conveyor system is a safe and efficient method to wrap and move tall pallets of beer and other beverages. The system automatically receives, wraps and discharges loads with designated specifications. It can accept three pallets at one time, allowing it to be operated by just one person, which saves on labor costs.

The LoPro Drag Chain Conveyor is a low profile, three-strand chain conveyor with a pass height of only 4 in., loading of up to three 2,500 pound-pallets from either a forklift or hand-powered electric walkie pallet jacks. The basic system includes one infeed conveyor, one wrap zone conveyor and one exit conveyor. Loads are automatically sequenced through the conveyors, and the machine will automatically apply pre-stretched film to the load, cut the film, and wipe the film tail to the load.

Orion's Rotary Tower Automatic (RTC) Stretch Wrapper is a space-saving rotary automatic wrapper that easily integrates with new or existing conveyance. The RTC is an ideal solution for easy integration with 18 in. pass-height conveyors due to its compact size, affordability, and the option to expand with additional conveyance. The machine is also compatible with IAV and AVGs. 
Companies in this article