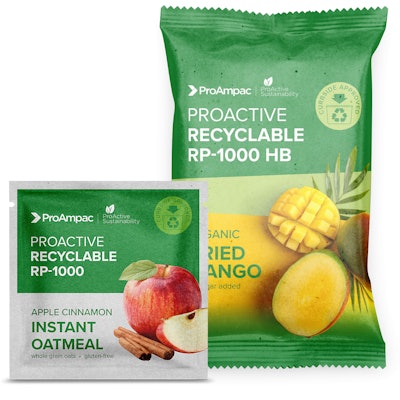 At the show, ProAmpac showcased its ProActive Recyclable RP-1000 High Barrier (HB) paper-based technology, designed to address packaging needs across a variety of food products. A standard barrier version is also available.
RP-1000HB is a patent-pending extension of the existing ProActive Recyclable RP-1000 series. This new packaging system provides robust barrier against oxygen, moisture, and grease, which can compromise the shelf-life and quality of products like dehydrated fruit, frozen foods, confections, and flavored oatmeal.
Many companies are looking to meet sustainability goals and incorporate recycle-ready content for regulatory requirements, consumer desires, and more. But a major challenge faced by the industry is that some sustainable material changes may require equipment slowdown at the plant. Nathan Klettlinger, global marketing director at ProAmpac, said that the RP-1000HB integrates easily with existing equipment and maintains speeds. By ensuring compatibility with already established infrastructure, it "simplifies the transition process and minimizes costs compared to other sustainable alternatives," he added.
This release is part of ProAmpac's "Kick it to the Curb!" focus, geared toward ensuring the product remains protected while making recycling convenient for consumers. Adam Grose, chief commercial officer, noted, "Here in the U.S., curbside is the easiest way to get people to recycle. So that's what we're focused on, without sacrificing the performance of the package."
Grose also said that the material is pre-H2R-qualified [How2Recycle] for customers who plan to take their package through the process of featuring the popular symbol for recycling instructions.
RP-1000HB's is made from bleached paper—there is also a Kraft option). The packaging not only ensures the longevity of its contents but enables clear branding and product information for shelf appeal. It's available in a variety of formats, including rollstock and pre-made, three-sided seal pouches.
Related reading: 2023 FPA Awards Emphasize Both Form and Function
Amir Saffar, director of global sustainability innovation for ProAmpac, elaborated on the product's performance under challenging conditions; in tests simulating up to 85% relative humidity, the RP-1000HB maintains its barrier properties. "Unlike conventional paper solutions that offer inadequate grease resistance and subsequent packaging vulnerabilities, RP-1000HB delivers superior grease resistance with excellent seal performance on horizontal and vertical form/fill/sealing lines. Its unique characteristics pave the way for integrating recyclable fiber-based packaging into numerous applications," he added.
Suitable for items including granola, cereal, and more, its printability allows for easy brand promotion and customization without compromising its primary function of preservation and protection.
Grease resistance for dry pet food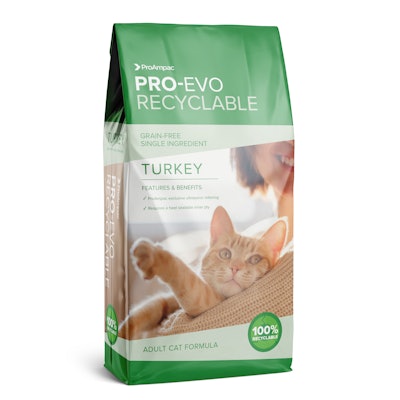 Earlier this year, ProAmpac launched its patent-pending PRO-EVO Recyclable platforms to the ProActive Recyclable series of products. The system is a multi-wall, paper-based self-opening-sack (SOS) bag that is certified for curbside recycling and is ideally suited for dry pet food. It provides grease and edge-wicking resistance without intentionally adding per- and poly-fluoroalkyl substances (PFAS). PRO-EVO Recyclable is also available with high moisture barrier to maintain the freshness of pet foods. The package combines shelf appeal and robust structure with high drop resistance.
"These patent-pending technologies are engineered to have various moisture barrier levels, excellent organoleptic properties for pet food applications, and run-at-rate on the standard filling equipment," said Hesam Tabatabaei, senior vice president of global product development and innovation at ProAmpac.
Companies in this article