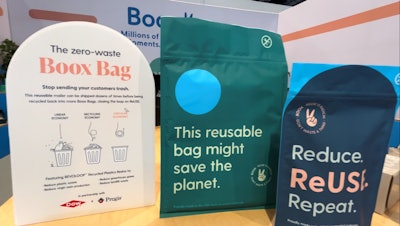 Displaying products from its partnership with Gwyneth Paltrow's lifestyle brand Goop and several others, first-time PACK EXPO Las Vegas exhibitor Boox offered an overview of their business-to-consumer (B2C) packaging system's approach and capability, emphasizing sustainability and simplicity of use for the consumer.
"We're a mission-driven start-up, supplying reusable shipping boxes and bags to help both brands and consumers eliminate single-use waste from their shipping stream," says Paige Russell, Boox's design director.
Boox's bags and box approach focuses on making circular packaging easy to use. For example, each Boox box is embedded with a QR code that, when scanned, instructs the end user on the process for returning the box to the Boox. Boxes are then returned to Boox, who cleans and refurbishes them before returning them to the client, such as Goop. This cycle ensures that the boxes enjoy a prolonged lifecycle, being used repeatedly for different shipping needs.
As B2C continues to grow, Russell sees that the circular solutions provided by Boox will be increasingly in demand. "We're one of the only companies here at PACK EXPO that provides B2C reusable shipping containers, so we're really excited to bring this opportunity to brands and consumers," says Russell.
Another new product Boox highlighted was its new polyethylene shipper, the Boox Bag, presented as an alternative to single-use fulfillment poly bags that currently dominate the market. The fruit of a partnership with Dow Chemical and Pregis, the Boox Bag uses Dow's REVOLOOP™ recycled plastics resins with 50% Post-Consumer Recycled (PCR) content. According to Russell, Boox's shipping bag can be used up to 15 times before reaching its end-of-life status, after which it can be repurposed into more bags.
In addition to its strong material, the Boox Bag features simple but elegant innovations in packaging design. For example, Boox Bag's shipping label plays a dual role, also acting as a tamper-proof seal, thereby eliminating the need for an extra piece of tape and further helping to reduce waste. Once shipped, the consumer can also follow simple procedures to open the package without scissors that cause damage to the product. The bag also includes return instructions embedded in the design.
Companies in this article