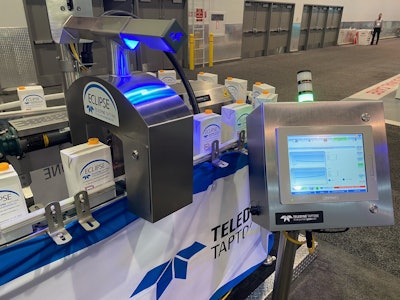 This new packaging tech is especially interesting because of the wait.
It was displayed at PACK EXPO International in Chicago last fall, but wasn't ready for reporting by Packaging World at the time. PW editors saw this equipment at interpack this past May, too, but it was in Alpha testing stages. Finally, at PACK EXPO Las Vegas this month, Mark Bussard, Teledyne TapTone Product Line Manager, confirms it's ready for the world to know about it.
The TapTone ECLIPSE inspection solution was designed to perform leak inspection of steam flushed and hot-filled liquid paperboard cartons such as the SIG Combibloc- and TETRA BRIK-style cartons. This new technology from TapTone allows cartons to be inspected at full production speeds for possible leaks occurring in the seal area, cap closures, or internal membranes which might otherwise not be detected. The inspection is a non-contact solution and capable of 100% inspection in-line at full production speeds.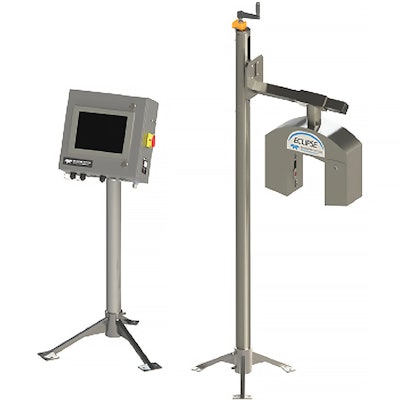 According to the company, the device will alter the process of leak inspection for producers using paperboard cartons. The current leak testing process involves sampling a percentage of production with a labor intensive and slow method using dye testing. ECLIPSE will change how leak testing is conducted.
"This will be a game changer," says Bussard. With ECLISPE, it will find the leakers immediately and will reject them off the line as compared to today where thousands of containers may have already left production. The savings are substantial in both wasted product and labor time. In addition, there is the peace of mind knowing that 100% of production has been inspected, greatly reducing the risk of spoiled product reaching the consumer.
The ECLIPSE design takes up minimal line space. With the cantilever design the inspection head can be positioned over the output conveyor from the capper/sealer and upstream from any labeling or packing area. The controller is separately mounted on its own stand allowing for convenient positioning and easy operator access.
On top of 100% non-contact inspection and speeds exceeding 800 cartons/min, benefits include a large, PC touch screen HMI operating on Windows 10 IoT Enterprise OS, Industry 4.0 compatibility, remote support-readiness, diagnostic analytics compatibility, stainless steel construction, and a NEMA 4X water washdown rating for the user interface enclosure and control enclosure.
Adds the company, ECLIPSE is an acronym for shortening of: Essential Carton Leak Inspection at Production Speed Efficiency.
Companies in this article