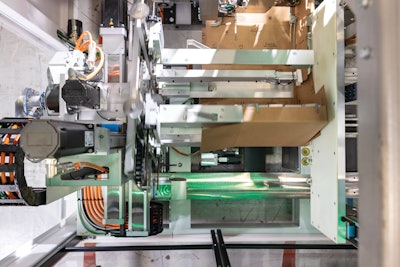 Packsize
highlighted at PACK EXPO Las Vegas how two integrated systems—its new software platform and a new machine—can help e-commerce and direct-to-consumer (D2C) brands reduce waste for sustainability while driving efficiency.
The first product is the PackNet® Cloud platform, which offers businesses the ability to optimize box packaging efficiency, boost productivity, and reduce their carbon footprint.
"PackNet Cloud represents a significant leap forward in packaging technology, making Packsize the industry's pioneer and sole provider of cloud capability," says Rod Gallaway, Chief Executive Officer at Packsize. "PackNet Cloud empowers businesses to optimize their packaging operations, reduce expenses, enhance customer satisfaction, and decrease their carbon footprint."
The innovative cloud-based system seamlessly integrates with Packsize's On Demand Packaging® machines, helping e-commerce brands manage carton machines, streamline box production, and integrate packaging workflows.
Designed to help businesses thrive in a dynamic and ever-growing e-commerce market, PackNet Cloud makes operations both more efficient and more sustainable through several features. First, PackNet Cloud enables multi-tenant environments, allowing businesses to scale flexibly and eliminate IT infrastructure concerns without compromising security and performance. The platform also provides real-time advanced data and analytics capabilities, offering businesses comprehensive insights to make data-driven decisions and optimize packaging operations. Also embedded in the platform is PackNet Cloud Cube, a tool that accurately calculates the dimensions and weight of packages, determining the optimal box size for every order.
Included with PackNet are security measures such as data encryption, device authentication, and real-time threat detection, ensuring comprehensive risk mitigation.
On-the-fly flexibility and sustainability in box making
Packsize's booth was also abuzz with the company's X5® solution, a machine released earlier this year that the company describes as the "the world's first fully-automated erected box system and the most advanced, flexible, efficient and sustainable platform available for the e-commerce industry."
The X5, which integrates seamlessly with PackNet Cloud, has already been installed at Crutchfield, a leading e-commerce electronics retailer,
as featured in the August issue
of
Packaging World
.
Packsize says the box making machine is designed to produce ready-to-pack, right-sized erected boxes at industry-leading speed to enhance e-commerce providers' and manufacturers' ability to meet customer demand, while addressing labor shortages, associated costs, and waste concerns.
"Unpredictable marketplace challenges over the last two years have compelled retailers and manufacturers to solve complex challenges around packaging technology, labor shortages, and throughput issues to meet consumer demand with sustainable solutions up and down the supply chain," said Gallaway in an earlier statement. "Our innovations with the X5 solution alleviate these concerns while increasing efficiencies at scale and reducing the environmental impact of e-commerce. We continue to reimagine the future of packaging and create solutions at the nexus of technology, efficiency, and sustainability."
The X5 reduces packaging waste caused by oversized boxes, negates void filler like plastic air pillows, reduces shipping emissions, and improves the end-consumer's overall experience.
Delivering up to 600 ready-to-pack, right-sized erected boxes per hour while automatically and accurately applying up to two labels per box, the X5 is designed to provide an advantage for high-volume e-commerce centers, especially when integrated with Packsize's software offerings, the company says.
Gallaway sees Packsize's new software/hardware offering as a integrated system that will help e-commerce brands become more sustainable while meeting their logistics needs. With e-commerce showing no signs of slowing down, right-sized packaging helps companies minimize their costs and environmental impact associated with extraneous and unneeded corrugated boxes while improving parcel logistics, fitting significantly more boxes on freight and delivery carriers.
"We know that over-sized boxes are about 40 percent too large and take 20 percent more corrugated than we really need," says Gallaway. "Our machines, paired with the cloud and software, makes right-sized packaging for any size order that customers need.
For Gallaway, supplying integrated packaging solutions that allow their brand customers to provide an impactful e-commerce experience for consumers is what it's all about. "We're hoping to delight them as they open the package when it gets to their doorstep."