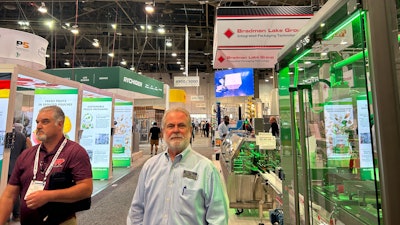 Transcript of audio
Hello again Pat Reynolds here for Packaging World magazine with a look at noteworthy developments from the show floor and day two of a very busy PACK EXPO Las Vegas.
Debuting at Mitsubishi Gas Chemicals' PACK EXPO Booth was the first ever oxygen absorber free of PFA substances. This comes in response to the growing legislation against PFA substances. These so called "forever chemicals" were once favored for their oil and water resistant properties, until they became known for their inability to break down in the environment, which of course poses adverse health effects. The key to this advancement from Mitsubishi resides in the multi-layer film structure used to contain the actual oxygen-absorbing components in the three-sides sealed pouch. Essentially a polyester paper PE construction, it's the paper layer that has been altered. A coating on this paper is what always brought the grease and moisture resistant properties required, without which the oxygen absorbing iron inside would not be able to perform its task. This coating is now free of PFA substances.
I'm told by Sean Hae, Mitsubishi Gas Chemical sales and marketing general manager, that the contents inside the three sides sealed pouch are unchanged. What changed is the coating on the paper in the structure that formerly included PFA substances. What that advanced proprietary formula is, Mitsubishi isn't saying. But the firm emphasizes that this game changing innovation is preceded by more than 40 years of proven, ageless technology, Mitsubishi Gas Chemicals' well-known and established brand, now re engineered to support the industry's progress towards ambitious sustainability goals. Also notes Mitsubishi, this 100% PFA substance-free solution doesn't compromise quality, performance or safety in the many applications where it's found, including processed meats, meat, snacks, baked goods, dried fruits, coffee, pet treats, pharmaceuticals, and nutraceuticals. The new and improved ageless oxygen absorbers are oil-resistant, and can deoxidized the interior of sealed packages to maintain flavor, color, fragrance, and nutrition of freshly prepared foods, as well as dramatically extend shelf life says Mitsubishi Gas Chemical.
When asked about the cost of the new oxygen absorber Hael said this: "We will have two different types of absorbers one will be the oil resistant version for use with products high and fatty oils. Being a new technology, there will probably be a slight increase in cost as things get leveled out. But what we found during our testing and studies is that some products not so high in fatty oils only require a non-oil-resistant version. So we will also offer that, and this non oil resistant version won't see a cost increase."
I'm always fascinated at the extent to which equipment from multiple packaging machinery OEMs shows up in smoothly integrated systems at various PACK EXPO booths. The Formost Fuji (C-4000) booth was a good example. In one integrated system, a JLS Talon pick-and-place robot was picking flatbread products one at a time and stacking them on a conveyor leading into a Formost Fuji flow wrapper. Also integrated was a Seal Strip fresh pack applicator for inline application of the Seal Strip reclosure feature, and a Markem Imaje SmartDate X 65 thermal transfer printer for date coding.
Formost Fuji President Dennis gunnel indicates that while he and his team have worked with JLS and Seal Strip and Markem Imaje in the past, this represents the first time that all three have been integrated into a single Formost Fuji system. One nice bit of engineering on line notes gunnel is the way that seal strip was able to use the same mounting hardware on the top of the wrapper that the Markem Imaje printer is using. This brings not only an element of simplicity to the table, it also means the machine footprint didn't need to grow unnecessarily.
Elsewhere in the booth was a Yamato TSD N3 semi automatic table top data-weigh scale, feeding zucchini into a Formost Fuji flow wrapper. The 14-bucket combination scale was being manually fed by two operators and then picking the best combination of buckets to drop into a chute that emptied onto a conveyor leading into the flow wrapper.
Liner-less labels was a big focus at Fox IV's booth in the Lower South Hall, where the firm introduced the L 3904E all-electric liner-less, label, print and apply system. While liner lists labels have been successfully commercialized in other parts of the world, notably Europe, they've never really caught on in the U.S.. Fox is aiming to change that Fox IV I should say. Liner-less labels, as the name so clearly suggests, are decidedly unlike pressure-sensitive labels in that they have no release liner. Also setting them apart is that label size need not be fixed. A brand owner could run a batch of 1,000 3-in. long labels, and then switch to a batch of 5-in. long labels by entering new data at the menu driven HMI.
The idea is to eliminate labeling waste, reduce energy usage, streamline inventory, and make the print-and-apply labeling process more efficient. The social, cultural, and regulatory landscape of the U.S. has never created all that much demand for this kind of sustainability-driven technology. Another reason that liner-less has lagged suggests Fox IV's director of sales Craig Preisendefer, is that there really hasn't been an off-the-shelf liner-less label print engine module readily available to OEMs like Fox IV.
"What we've done on this L 3904E is take a desktop thermal transfer printer and build it into our printer applicator," says Preisendefer. The print engine he refers to is the CL 4 NX+ from SATO. Though capable of both thermal transfer and direct thermal printing, in this case, thermal transfer wouldn't make much sense, because there'd still be a roll of ink ribbon to dispose of, which wouldn't be much of an improvement over having to dispose of a release liner.
The print engine thermally prints on to continuous direct thermal liner-less label stock. Then, a reciprocating blade cuts the stock to size and automatically applies it using a servo-driven applications cylinder and pad. Labels up to 4.65 inches wide can be printed and applied to products, cases, pallets, and other items, eliminating release liners, label matrix waste and ribbon waste while reducing operating costs.
As for the label stock itself, the Preisendefer says it can vary considerably and is available from a number of global suppliers.
Tetra Pak used PACK EXPO Las Vegas to announce a brand new, custom printing collaboration with Toronto-based Flow Beverage Corporation, a health and wellness focused beverage company offering alkaline spring water in Tetra Pak packaging. Tetra pack custom printing utilizes the RotaJET digital printing system from Koenig and Bauer to offer full-color digital printing on its carton packages. TetraPak sees all kinds of new business and marketing opportunities emerging thanks to the increased flexibility and the ability to customize that comes with this digital printing technology. Tetra Pak custom printing is described as the first and only premium inkjet based carton package printing solution to offer brands and innovative cost effective and customizable system while providing all the environmental benefits of paper based beverage cartons.
And that's all for now from PACK EXPO Las Vegas 2023
Companies in this article