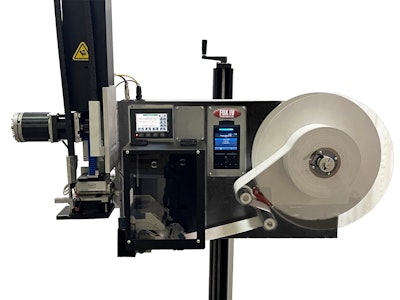 While linerless labels have been successfully commercialized in other parts of the world, notably Europe, they've never really caught on in the U.S. At PACK EXPO Las Vegas Booth SL-6301, FOX IV set out to change this with the launch of the L3904E all-electric, linerless label print-and-apply system.
Linerless labels, as the name so clearly suggests, are decidedly unlike pressure-sensitive labels in that they have no release liner. Also setting them apart is that label size need not be fixed. A brand owner could run a batch of 1,000 3-in long labels and then switch to a batch of 5-in-long labels by entering new data at the menu-driven HMI. The idea is to eliminate labeling waste, reduce energy usage, streamline inventory, and make the print-and-apply labeling process more efficient.
The social, cultural, and regulatory landscape of the U.S. has never created all that much demand for this kind of sustainability-driven technology. Another reason that linerless has lagged, suggests FOX IV director of sales Craig Preisendefer, is that there really hasn't been an off-the-shelf linerless label print engine module readily available to OEMs like FOX IV. "What we've done on the L3904E is take a desktop thermal transfer printer and build it into our printer/applicator," says Preisendefer. The print engine he refers to is the CL4NX Plus from Sato. Though capable of both thermal transfer and direct thermal printing, in this case thermal transfer wouldn't make much sense because there'd still be a roll of ink ribbon to dispose of, which wouldn't be much of an improvement over having to dispose of a release liner. The print engine thermally prints onto continuous, direct thermal, linerless label stock. Then a reciprocating blade cuts the stock to size and automatically applies it using a servo driven application cylinder and pad. Labels up to 4.65 in. wide can be printed and applied to products, cases, pallets, and other items—eliminating release liners, label matrix waste, and ribbon waste while reducing operating costs.
As for the label stock itself, Preisendefer says it can vary considerably and is available from a number of global suppliers. "What we tell customers is that the label stock all depends on the application. If the label is going onto a frozen carton of seafood, it's got to be a certain type of adhesive that stands up to a wet environment. If it's a hot or especially dirty environment, other types of raw materials might be more suitable. That's why we're not married to any particular label stock supplier."
Companies in this article