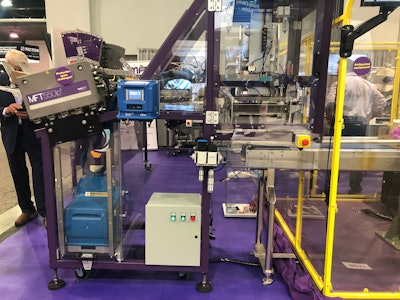 MFT Automation is showcasing its latest packaging solution, the MFT Tray Former, at its booth at PACK EXPO Las Vegas. The MFT Tray Former assembles cardboard trays, secures them with hot-melt glue, and delivers them to the next step in the packaging process. It utilizes MFT friction feeders and is compatible with any size in the MFT feeder line.
Features of the MFT Tray Former include OSHA-compliant safe guarding with interlocked doors, a servo-driven RAM (random-access memory) assembly that guides tray blanks through a three-stage die assembly, pneumatics with LOTO (lockout/tagout) air supply regulation, and an infrared sensor that allows for accurate count using double-detect and overlap detection. The unit has a compact and mobile design and is highly customizable to fit specific applications and needs. In addition to being compatible with MFT's friction feeders, it is also compatible with the company's robotic and other technologies, to create full packaging systems.
"We are very excited to introduce this new technology to the market," shared MFT Automation President Peter Nordling at the show. "We have been working very hard behind the scenes to enhance our product lines, and this technology is something we feel complements our existing product lines perfectly."
MFT Automation's friction feeders, labelers, and integrated systems are engineered for the pharmaceutical, medical, food and beverage, and printing and packaging industries.
Companies in this article