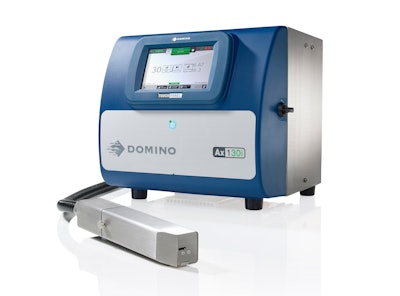 Domino is debuting the new Ax130i continuous ink-jet (CIJ) printer at its booth at PACK EXPO Las Vegas. The Ax130i is designed to print simple and quality batch codes up to five lines of variable or fixed data through CIJ onto a wide range of substrates for products in variety of industries that include food, dairy, and cosmetics.
As Domino shares, simplicity and ease of use are the watchwords for the Ax130i. In terms of ease of use, the company says that operation of the printer and label editing are as easy as using a smartphone, with only a few touches on the integrated touchscreen using Domino's QuickStep user interface needed. The user interface can be password protected to ensure labels are protected and correct.
The system is also easy to maintain. According to Domino, exchanging the ITM [integrated technology module] service module is simple—a less-than-10-minute task performed annually by an operator. A key feature of the Domino printer system, the ITM minimizes the need for conventional maintenance, such as manual filter replacement, which can help reduce labor costs and downtime. Fluid changes are also easy and said to be "mistake-free," through auto-identification of consumables, and they can be done without stopping the printer.
The fluid system itself features accurate control systems that enable optimum printer performance and code quality in varying ambient temperatures. In addition, fluid levels are continually monitored, alerting operators when it's time to replenish them.
Like the other Ax-Series printers, the Ax130i is built with a Domino-made printhead technology called i-Pulse, designed to create codes with a nine-drop resolution as opposed to the seven-drop resolution traditionally used in CIJ printing. According to the company, because of this higher drop resolution, the Ax-Series printers can create highly readable codes, deliver extended periods of uptime, and save users up to 24% in ink usage.

The Ax130i can use a range of Domino-supplied inks, all of which are produced to GMP (Good Manufacturing Practice) standards and compliant with leading global legislation for food packaging. Lasting adhesion, lightfastness, and high contrast on a wide range of substrates (e.g., polyolefins) come as standard. Says Domino, environmentally friendly fluid options, reduced ink consumption, optimized packaging, fully-depleting cartridges, and a reduced footprint contribute to the system's improved sustainability.
Companies in this article