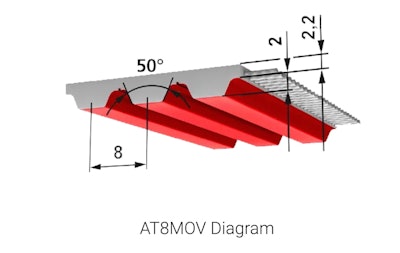 BRECOflex Co. has expanded its "move-series" of timing belts with the addition of the AT MOV Open-Ended M for linear drives. As the company shared at PACK EXPO Las Vegas, the AT8 MOV in truly endless BFX has been around for some time, but BRECOflex's customers' need for high accuracy in smaller, yet dynamically complex positioning drives prompted the company to design an open-ended AT8 as part of the move-series.
According to BRECOflex, as with its other move-series timing belts, the AT8 MOV Open Ended has excellent tensile stiffness, as compared with other belts. The AT8 has a smaller pitch than the AT10, but has the same specific stiffness, based on a 50-mm belt width. The smaller pitch also reduces the polygonal effect.
As BRECOflex explained, in linear drive applications, the high tensile strength and high stiffness of the "move tension members" ensure faster settling and more accurate positioning with a very high degree of precision. The company's custom-engineered steel cord tension member delivers up to 75% more tensile strength than a comparable standard AT8 and AT10 tension member.
Among the advantages of the move-series timing belts include the high load-bearing capacity of the tension members and the optimized tooth shape and low-friction coefficient of the belt coating. According to the company, these features add to the long service life and low friction of the belts.
The Open Ended – M is available in standard widths of 25, 50, 75, and 100 mm and standard lengths of 50 or 100-m rolls. It can also be ordered in one-tooth increments.
Companies in this article