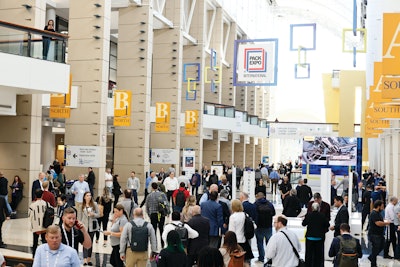 Click the links that follow to read more about innovations in: Machinery | Food Processing & Packaging | Sustainable Packaging | Robotics | Pharma | Controls
With 2,200 exhibitors showcasing groundbreaking packaging and processing innovations over 1.2 million net sq ft, PACK EXPO International was the one and only time the entire industry came together last year.
"The success of PACK EXPO is a testament to our industry's continued growth as well as PMMI's commitment to bringing the industry together to share cutting-edge innovations," says Jim Pittas, president and CEO, PMMI. "The event showcased countless end-to-end solutions, offering attendees everything they need to compete in a changing marketplace."
Industry growth translated into buyers coming in significant numbers, ready to see the latest packaging materials as well as technology in action. Improving operations, reaching sustainability goals, and checking out new innovations are just a few of the drivers that brought consumer packaged goods (CPG) and life sciences companies to PACK EXPO International. The buzz on the show floor confirmed that exhibitors and attendees from companies of all sizes found a rewarding, and some claim unparalleled, experience at the four-day event.
Answering the need to come together, network and see advances, PACK EXPO International 2022 offered more show features than ever before, bringing value to all market segments.
A record-breaking Packaging and Processing Women's Leadership Network (PPWLN) breakfast brought together nearly 1,000 professionals to hear Dawn Hudson, former Chief Marketing Officer at the National Football League and former President and CEO of Pepsi-Cola North America, talk about her experiences in the workforce. The PPWLN event, aimed at advancing the future of women in the packaging and processing industry, was sponsored by: Emerson, ID Technology, Morrison Container Handling Solutions, Plexpack Corp., Septimatech Group Inc., and SMC Corporation of America.
Developing the future packaging and processing workforce was a top priority at PACK EXPO International with the largest number of students in attendance in the history of the event. More than 1,500 students attended the show and participated in many opportunities to get them excited about careers in this industry. In addition to the prestigious Future Innovators Robotics Showcase, educational Amazing Packaging Race sponsored by Emerson, and Students PACK the Expo programs, this year six teams faced off in a brand-new machine building PACK Challenge, sponsored by PepsiCo.
With robust education offerings, the focus on developing our industry went beyond students. PACK EXPO International held over 120 education sessions, beginning with the one-day Emerging Brands Summit, making its debut at the show. The education continued throughout the show on various on-floor stages, offering educational sessions such as the Innovation Stage, Processing Innovation Stage, PACK to the Future Stage, The Forum, and Reusable Packaging Learning Center.
Additionally, the PACK EXPO Association Partner Program connected attendees to leading associations from all segments of packaging and processing. This year's program was the largest in PACK EXPO history with 50 partners.
"We would like to thank PMMI's Board of Directors, our membership, exhibitors, and all attendees who supported PACK EXPO International and made this show a tremendous success," says Laura Thompson, VP trade shows, PMMI.
Once again the editors of PMMI Media Group were on the job covering the innovations shown by the exhibitors. Our report is divided into five main categories: Machinery, Food Processing & Packaging, Sustainable Packaging, Robotics, and Controls (click on any link for more information). This report is brought to you by:
Matt Reynolds, Chief Editor, Packaging World
Pat Reynolds, Contributing Editor, Packaging World
Anne Marie Mohan, Senior Editor, Packaging World
David Greenfield, Director of Content/Editor-in-Chief, Automation World
Stephanie Neil, Editor in Chief, OEM Magazine
Keren Sookne, Director of Editorial Content, Healthcare Packaging
Aaron Hand, Editor-in-Chief, ProFood World
Melissa Griffen, Editor, Contract Manufacturing & Packaging
Casey Flanagan, Editorial Assistant, PMMI Media Group
Joe Derr, Contributing Editor, PMMI Media Group
Michael Costa, Senior Editor, ProFood World
Lilian Robayo Paez, Editor, Mundo PMMI
Companies in this article
Videos from Graphic Packaging Intl.