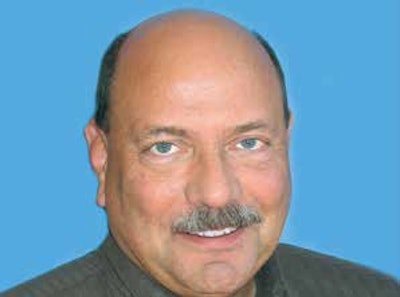 Show Daily Exclusive -
OMAC – The Organization for Machine Automation and Control (Booth C-1152) recognized the first recipients of a John A. Kowal Memorial Scholarship yesterday at its General Session held at PACK EXPO Las Vegas. Patrick Wojtera, an Automation Engineering Technology student at McMaster University (Hamilton, Ontario, Canada), and Tyler Ebert, an Electrical Engineering student at Ohio University, each received an award of $5,000.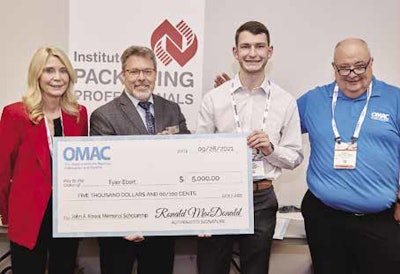 With the scholarship, "John's legacy will live on through the students who share his quest for knowledge and passion for the industry," says Stephanie Frisque, Kowal's widow. Wojtera is majoring in automation and smart systems and involved in many extracurricular and volunteer activities, including student recruitment, co-op information sessions and Institutional Quality Assurance Process, a quality assurance process required of all publicly assisted universities in Ontario.
In his co-op job as an automation specialist, he has programed human/machine interfaces and programmable logic controllers for multiple machines. His goal is to work in the automation industry, ideally with conveyors. Ebert is active in two student professional organizations: Theta Tau Professional Engineering Fraternity, where he served as pledge class president and professional development chair, and the IEEE Eta Kappa Nu Honor Society. He also has gained considerable hands-on experience in intern and coop positions, including designing and implementing control logic for a milk-powder handling system and creating a functional specification and operator interface for film extrusion die thickness.
OMAC established the scholarship program to honor John Kowal, director of Business Development at B&R Industrial Automation (Booth C-4709), who passed away on July 8, 2020, after a long bout with cancer and to encourage and support the growth of careers in automation. Kowal, one of OMAC's founding members, championed automation for more than two decades. "As one of the most influential figures and vital contributor to the automation and packaging industries, John's legacy lives on through this scholarship," says Bryan Griffen, a long-time friend and collaborator and director, Industry Services at PMMI, The Association for Packaging and Processing Technologies (Central Lobby). "John was a tremendous contributor to the automation and packaging industries, and in particular to OMAC," he adds.
Applicants for the scholarship must be a third-or fourth-year student majoring in electrical engineering/ automation or related areas who demonstrate a commitment to excellence in the industry and an interest in packaging automation. A minimum GPA of 3.0 is required.
Kowal was one of the most influential figures in packaging automation during the past two decades. In the '90s, he authored a book on personal computer vs. programmable logic control. Joining the servo division in the late 1990s of what is now Bosch Rexroth (Booth C-5214), he evangelized the potential for servo control for the packaging machinery industry at a time when there was resistance to the new technology. As part of this effort, he was instrumental in propelling the then-sleepy OMAC organization into the packaging community, giving it a sense of purpose and vitality that put it on the map.

In 2002, Kowal was tapped to join Elau, a privately held German servo control manufacturer that wanted to take on entrenched competitors in the highly competitive U.S. motion-control market. He spearheaded what was considered to be one of most audacious marketing programs in the field of packaging automation at that time.
Elau rapidly grew its presence in the U.S. until 2005 when it was acquired by Schneider Electric (Booth C-5422). Kowal moved on to B&R in 2010 and handled marketing for its global automation business. Throughout this period, he became an increasingly active and influential member of PMMI, serving on its board of directors and various committees including Global Marketing, Strategic Planning, Membership and Business Intelligence.
"With his unique way of demystifying controls and automation technology, John taught me a lot about advanced packaging machinery. He'll be missed," comments Pat Reynolds, vice president, editor emeritus at Packaging World (Central Lobby).
For more info, visit www.omac.org. SD

Companies in this article