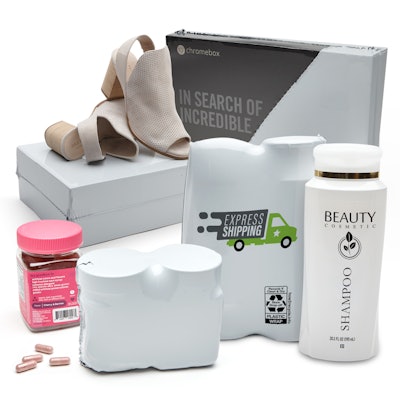 Clysar, LLC, introduced Clysar EVO-C™ confidential shrink film: the next solution in the family of recyclable shrink films pre-approved for the store drop-off label by the How2Recycle program durring PACK EXPO Las Vegas. Clysar EVO-C film is a unique opaque security and shipping material offering UV-blocking properties. Strong, lightweight, and puncture-resistant, the film can significantly reduce packaging volume and weight, while protecting from light degradation. It's ideal for demanding e-commerce, mailing, distribution, and packaging applications where concealing and containing contents is required.
Clysar EVO opaque, protective shrink film provides a true "drop-in" alternative to traditional non-recyclable shrink films and runs on existing shrink equipment without sacrificing performance. The film can be printed and is available in a number of put-ups. Complete technical and development support is available, including trial rolls and application testing.
Target packaging applications include high-value products such as jewelry or electronics; sensitive printed or personalized materials; pharmaceuticals and supplements; official documents; books and magazines; gourmet foods; digital media; software; footwear; sporting goods; lawn and garden products; liquid or granular cleaning, personal care, or household products; and high-value industrial products.
All Clysar EVO™ shrink films have been developed in collaboration with the Sustainable Packaging Coalition and verified by third-party testing to meet the requirements of the Association of Plastic Recyclers, ensuring they are safe and fully acceptable for Store Drop-Off recycling. Offering official letters of prequalification from the How2Recycle organization, Clysar EVO™ films offer a fast, actionable path for improving packaging sustainability.
Clysar EVO™ films are similar to traditional cross-linked shrink films and run on virtually all types of packaging equipment. Two shrink film options are available to provide targeted performance for individual product applications and process demands.