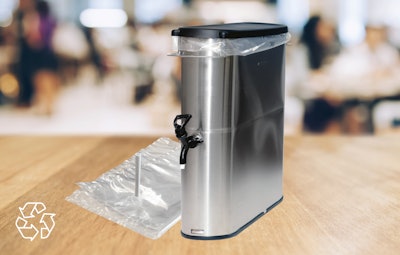 The disposable urn-liner covers the inside of metal beverage urns and decanters. Each liner is equipped with a tube that feeds through the urn spigot keeping the liquid product from coming in contact with the urn or spigot, which provides a safe, better-tasting beverage for consumers and operational efficiencies for store operators.
Liquibox's (now part of Sealed Air) urn-liners are the ideal solution to meet the heightened demand for sanitation standards by reducing bacteria in beverages such as iced tea, iced coffee, and other non-carbonated drinks by 99%.
This innovation makes the urn-liners compatible with recycling streams and reduces its ecological footprint, while still ensuring reliable product protection.
Companies in this article