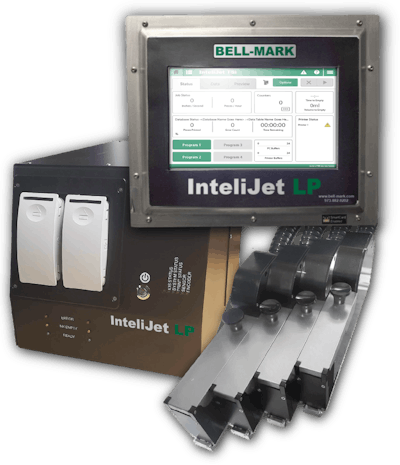 The throw distance of the TIJ 4.0 printheads has also been increased, reaching up to 7mm. The print heads are 22mm (7/8 in.) wide and can be stitched together for a total of 4 stitched printheads, all controlled by a single user interface.
The advanced user interface is displayed on a 7 in. color touch-screen HMI. The interface enables users to monitor a wide array of operating conditions and has a built-in label creation software for creating and managing labels. Users can also import labels via an ethernet connection or USB flash drive.
Bell-Mark's InteliJet LP printer also features a new, integrated, bulk ink delivery system, utilizing two hot swappable 775 mL ink supplies. As one ink supply empties, the ink is fed automatically from the other supply allowing continuous production and uptime. This eliminates the downtime caused by changing ink cartridges, such as needed on TIJ 2.5 setups. The print controller, which houses the dual bulk ink supplies, connects to each printhead with a 3 meter umbilical, supplying a constant flow of ink from the bulk in reservoirs. The print controller also connects all other peripherals, such as an encoder, sensor, I/O, ethernet, and the touch-screen HMI.
Companies in this article