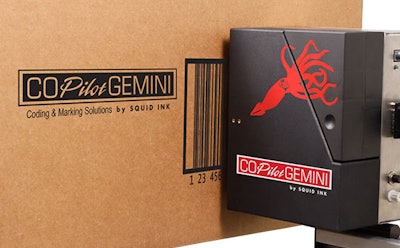 The CoPilot Gemini is designed for label replacement and features Squid Ink's largest printhead with up to 5.6 in. of print height. Printing at 360 dpi, the CoPilot Gemini will print GS1 barcodes with ease. Additionally, the CoPilot Gemini utilizes the same active ink system found in Squid Ink's CoPilot Max printing system, allowing users to tilt or rotate the printhead in any direction without making height adjustments to the ink supply.
The system prints hi-resolution characters, razor-sharp text, scannable bar codes, and logos at industry-leading 360 DPI vertical resolution at speeds up to 220 ft/minute. For increased runtime, the CoPilot Gemini features a large 500ml snap-in cartridge, allowing users to swap ink cartridges in seconds. The generous ink volume, quick-change ink cartridge, and user-friendly touchscreen design allow users to keep their line running, reducing downtime, and maximizing ROI.
The CoPilot Gemini is available now as an oil-based system for printing on porous substrates like uncoated corrugate and in the near future as a solvent-based system for printing on a variety of non-porous substrates. With up to 5.6 in. of print height and print speeds up to 220 ft/min, the CoPilot Gemini provides a cost-effective solution for making a mark on a wide variety of products and substrates.
The CoPilot Gemini features a 4.3 in. full-color touchscreen that allows users to access the system's internal messages and print functions. Messages are created and edited on Squid Ink's easy-to-use Orion™ PC Software and transferred via USB, Ethernet, wireless, or optional Windows® tablet. The tablet is ideal for users who want message creation and editing functionality on the production floor.
The CoPilot Gemini controller features increased processing power to print the messages users want when they want to print them. In addition, faster GUI response time and near-immediate message rendering times allow the Gemini to keep up with the demands of a fast-paced manufacturing environment.
Companies in this article