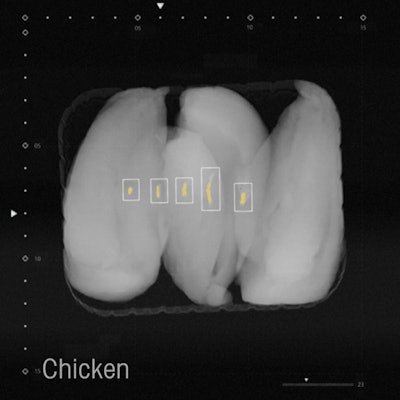 This content was written and submitted by the supplier. It has only been modified to comply with this publication's space and style.
The Mettler-Toledo DXD and DXD+ dual energy detector technology is optimized for identifying foreign bodies such as calcified bone, low-mineral glass, rubber, and some plastics. These types of contaminants are traditionally hard to detect within the cluttered or noisy x-ray images generated by overlapping and multi-textured products such as packs of pasta, chicken breasts, sausages, and frozen potato-based goods.
Such applications are a perfect match for DXD and DXD+ high-quality detector technology, in conjunction with new Mettler-Toledo Advanced Material Discrimination software tools. The software helps to separate and remove the prominent material of the food product within the x-ray image, revealing the presence of any lower density contaminants. As a result of the accuracy and reliability of DXD and DXD+ detection, food manufacturers can be more confident that their products are safe for consumers, and that they will benefit from reduced false reject rates and product waste, helping to deliver a fast return on investment.
The reliable performance of this new technology has been shown in tests conducted by Mettler-Toledo, in which a range of different foreign bodies were hidden in 650 gram packs of chicken breasts.
The new detector technology is available in two versions, giving customers two levels of dual energy x-ray performance:
• DXD: high-quality x-ray performance at an affordable price; can operate in the same environments as single energy solutions and can be used with line speeds typically up to 100 m/minute.
• DXD+: reliable detector technology for the most challenging applications; collects more data about the product being inspected, and improved image analysis software provides clearer images with higher resolution; DXD+ can be used with line speeds typically up to 45 m/minute.
DXD and DXD+ dual energy detectors can now be specified with new purchases of Mettler-Toledo X36 X-ray inspection systems.
Companies in this article