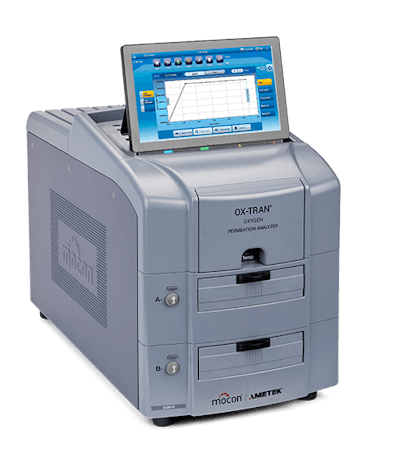 This content was written and submitted by the supplier. It has only been modified to comply with this publication's space and style.
In 2020, Ametek Mocon® introduced the 2/28 H, a high-throughput oxygen permeation analyzer featuring a unique four-cell capability, patented COULOX® sensor, and fully automated temperature and flow controls. For QA/QC labs performing frequent oxygen transmission rate (OTR) tests, the 2/28 reduces testing time, simplifies workflow and enables more repeatable results. The 2/28 H was designed for dry testing conditions, with a set relative humidity (RH) of 0%.
Some labs, however, need to more closely match environmental conditions or previous testing data when conducting OTR analysis. To better serve these customers, Ametek Mocon expanded the OX-TRAN 2/28 to include the 2/28 HR model that allows precise control of RH for the test gas.
"We developed the HR model at the request of several customers who wanted the high-throughput benefits of the 2/28, but with the added flexibility of humidity testing," explained Jeff Jackson, senior product manager for permeation instruments. "The ability to exactly match RH conditions gives our customers more consistent data and better confidence in their results."
Both instruments share ease-of-use and automated testing features, including software additions to improve laboratory efficiency. The QC test mode simplifies routine testing for operators, while the conditioning test mode decreases overall testing time. A four-cell capability and a range of specialized accessory cartridge options improve throughput and allow labs to test unique packaging. These unique settings and accessories can dramatically increase the efficiency and overall testing capacity of your lab, making it the perfect solution for the busy QC lab supporting production operations.
"The dual cell cartridges were developed for our customers who perform extensive daily testing – they help reduce costs while maintaining accurate and repeatable results," explained Andreas Roos, EMEA sales manager for permeation instruments. "The combination of different types of cartridges combined with the range of 2/28 models really expands the OTR testing capability for our customers."
Companies in this article