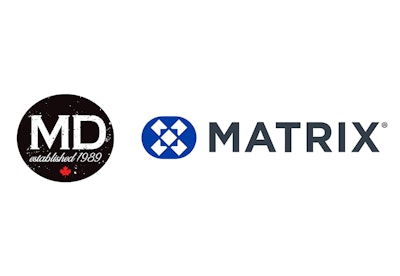 Founded in 1989, MD Packaging is a leading distributor of product inspection and packaging automation solutions for the manufacturing sectors of food, beverage, pharmaceuticals, consumer goods, and industrial products industries.
This new partnership positions MD Packaging to sell, service, and provide project management expertise to its Canadian customers on Matrix's full line of vf/f/s machines. Matrix is the foremost manufacturer of vf/f/s packaging equipment producing a variety of flexible bag styles, including pillow, gusseted, flat bottom, quad, and modified doy.
"MD Packaging is an extension of Matrix in Canada. This is really a partnership in the truest sense of the word," said Jason Beard, Vice President of Sales, Matrix. "MD Packaging emulates our values very closely. They are a service-first organization that proves their worth long after the sale and installation. Their value proposition is very much in line with ours.
"Canadian customers are in great hands with MD Packaging."
Based in Uxbridge, Ontario, with regional offices in Toronto; Montreal; Summerside, Prince Edward Island; Calgary; and Vancouver, MD Packaging is a full-service organization that handles all sizes of material handling projects. MD Packaging is part of The Tessera Group, a Toronto-based family of brands that combine design, fabrication, integration, sales, service, parts, and consumables to deliver value to its partners across multiple industries.

As part of its onboarding process, MD Packaging representatives and technicians trained on Matrix equipment at its Saukville, Wis., headquarters. MD Packaging will also be stocking parts to provide the fastest level of customer service to its Canadian customers.

"The business philosophies of MD Packaging and Matrix are very much aligned. The synergies really meshed well in what our cultures stand for," said Jaime Alboim, CEO, MD Packaging. "Matrix wants to better understand the Canadian market, the issues that are important to customers here, and how to better serve them. We are very excited to tap into the vast resources we have to help Matrix in this effort.
"We have never had exclusivity with a vertical form fill seal company before; it's been a piece of the puzzle for us that's been a long time coming. The thought of merging our two companies together and growing the business in Canada is motivating for us."

Companies in this article
Videos from Matrix Packaging Machinery