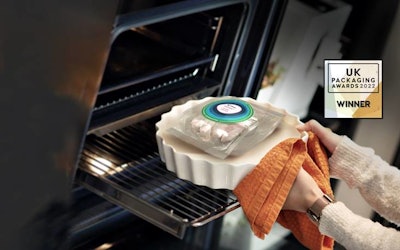 This content was written and submitted by the supplier. It has only been modified to comply with this publication's space and style.
Amcor's PrimeSeal Ovenable Flow Pack is a lightweight flow pack for cooking food in the oven, containing a 100% hermetic seal and self-venting technology, that meets consumers' and brands' demand for optimised, convenient and sustainable packaging.
Developed in collaboration with Rovipak Packaging Solutions Limited and Rockvale Poultry in the UK, Amcor's PrimeSeal Ovenable Flow Pack can be applied to meat packs, portion packs, and ready meal casserole packs. The ovenable flow pack solution demonstrates Amcor's commitment to sustainability by reducing packaging components typically from 4 to 1, resulting in a 50% lighter pack than the typical pack-with-tray solutions in the market.
To ensure confidence and convenience for consumers, the four-side gusset-shaped design of the pack helps to prolong product freshness, reduce the cooking time, and improve flavor when cooked. It also retains the cooking juice from the food product to prevent any leakage, helping to minimize clean-up for home cooks.
The film on the ovenable flow pack also provides optimization for brands. It has been developed to run at high speed in vf/f/s machines and allows brands to print directly on the film, removing the need for labeling and secondary packaging. By utilizing Rovipak's patented Quattrapak line, the new line minimizes packaging waste, product contact handling, and decreases labor requirement per line from 15 to 2 to 3 individuals, allowing workers to be reassigned to other tasks.
Rosalia Rosalinova, Senior Marketing Manager at Amcor, said, "The PrimeSeal Ovenable Flow Pack is a fantastic example of how the removal of materials from packs can offer the protein industry more sustainable, secure and convenient packaging. Together with our significant partners, Rovipack Packaging Solutions and Rockvale Poultry, we have developed this solution that equally meets the needs of customers and brands – and we are thrilled it has been recognized for the Flexible Plastic Pack of the Year."

Companies in this article