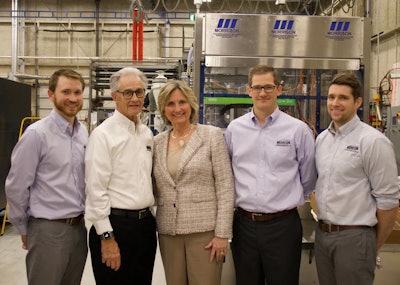 "The COVID-19 pandemic offered us the opportunity to make an impact and our dedicated team stepped up to meet that challenge for our Country," Morrison's CEO Nancy Wilson said. "And it was our team's ability that delivered 31 integrated systems that, combined, manufacture more than 5 million COVID-19 test kits each and every day along with solutions that allowed our customers to quickly convert their container handling to needed items like hand sanitizer."
The last few years have been instrumental to Morrison's growth in the packaging and custom equipment manufacturing industries. A testament to their achievements, Morrison broke ground in March 2021 on an 80,000 square foot expansion to its primary Glenwood location.
"We've always prided ourselves in our people and their dedication to delivering the best in Support Built In® to our customers," President and Founder Nick Wilson said. "When I started this company, I never could have predicted we would see the change we are seeing today that is being driven by a combination of young, energized talent and veterans from when I started the company. When I see the mix of our team who has been here more than 45 years working with and training the future workforce we are dedicated to developing, I'm reminded of the larger purpose we've always promised to fulfill in our community, and I truly believe that is why we have been able to grow and be a leader in packaging."
Nick Wilson was inducted into the Packaging Hall of Fame in 2012 for his innovative designs that have improved container handling for customers all over the world, his contributions to education and driving the customer centric approach at PMMI. Moreover, it is a reflection of how he has routinely positioned Morrison to also be a leader in the educational space in order to grow the community, local workforce, and future packaging innovators he knows are necessary to keep production lines moving across America.
---
PACK EXPO Las Vegas and Healthcare Packaging EXPO (Sept. 27-29, Las Vegas Convention Center) will reunite the packaging and processing community, offering new products, technologies and solutions, while implementing up-to-date protocols for a safe and successful in-person event. Attendee registration is now open.
---
In 2008, Nick Wilson inspired and helped Purdue University Northwest to create the country's first 4-year mechatronics degreed engineering program and has remained committed to this cause with both he and his wife Nancy serving on University boards. Additionally, Nancy chairs the PMMI Future Workforce Committee and drove the establishment of a funds-match program for members to work with their local schools to create or support the programs to develop students for careers in the packaging industry.
Nick Wilson, a previous PMMI Chairman and Board of Directors member, and Nancy Wilson, a current PMMI Board of Directors member, also continue to lead the industry by remaining active in local and national organizations committed to community development and packaging industry growth. Most recently, Nancy Wilson joined the Southland Development Authority board which seeks to improve the economic development of Chicago's Southland by helping businesses and community members alike thrive and develop in the area where Morrison has grown in itself.
"When we think to the future, we look at our son Chris Wilson [Morrison's VP of Operations] as well as the all the young, talented people we have on our leadership team," Nancy says. "In their capable hands, I have no doubt Morrison will continue to challenge current technologies and designs and find new and better ways to bring the best in container handling to our customers."
In reflecting on 50 years of dedication to brining the best container handling solutions and partnerships, Morrison's leadership team all extends gratitude to its customers that has made this success possible. Nancy Wilson says she hopes to continue to bring this level of Support Built In for another 50 years to come.

Companies in this article
Videos from Morrison Container Handling Solutions