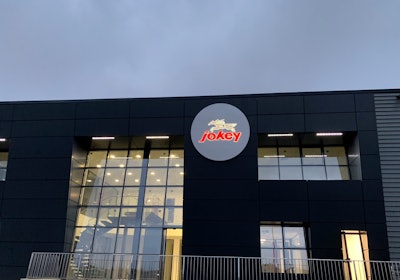 The new Jokey Iberica plant scores with the latest technical standards, significantly increased performance, and energy efficiency. On the 30,000 sq ft plant site in Murcia, the capital of the region of the same name in the south of Spain, the new factory buildings now rise in a newly developed industrial park. At 10,000 sq ft, it is twice as large as the old plant in Molina de Segura, 16 kilometres away. The special height of the new buildings means that they can accommodate more than 50 large, state-of-the-art injection-molding machines.
Right on time at the end of the first quarter, production of the diverse buckets from the Jokey Compact Line (JCL) begins in the new factory. Production capacities are to be increased gradually by mid/end of April. In addition to containers from the Jokey standard range, the Spanish family-owned company will continue to offer a wide range of special packaging, household products, and closure solutions, thus expanding the Jokey product portfolio. Due to the pandemic, the official opening ceremony is scheduled for the last quarter of 2021.
"We are delighted about the move to one of the most modern Jokey plants," affirms Vicente Hernández, Managing Director at Jokey Iberica. "In the long term, we can double our current production capacity here. Not only we will be able to serve the Spanish, Portuguese, and Moroccan markets, but we can also produce the wide range of Jokey packaging." The Jokey Group has invested a total of around 12.2 million euros in the construction of the new plant. "With our Spanish subsidiary, we meet the latest standards in production technology and energy efficiency," emphasizes Christof Kölschbach, CSO of the Jokey Group. "This allows us to ideally implement the fields of action of our expanded Jokey Eco Concept 2.0 with regard to sustainable corporate management and production."

Companies in this article