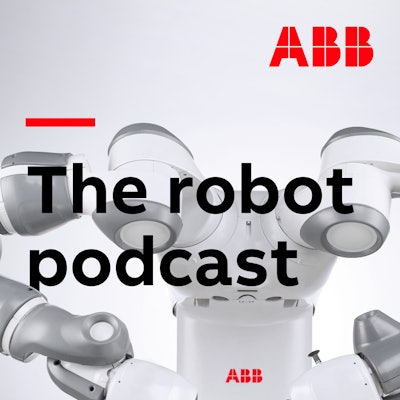 ABB's new series of podcasts will explore the innovative world of robotics, and their benefit to society in the greatest shift in automation in a generation, brought on by the pandemic.
Whether it's collaborative robots working alongside humans in laboratories and SME businesses, or industrial robots working in large factories producing the next generation of electric vehicle, robots of all shapes and sizes are making work safer and more efficient for people and companies the world over. Each episode of the Robot Podcast features a panel of experts and takes an in-depth look at some of the most interesting global case studies.
Episode One launched February 17 with five additional episodes landing each Wednesday thereafter, with more to follow later in 2021.
The Robot Podcast is hosted by TV presenter and engineering enthusiast, Fran Scott. She has worked with the BBC and Channel 4 in the UK, as well as the Royal Society of Chemistry and the British Science and Media Museum. Commenting on the Robot Podcast, Fran said: "Robots are revolutionizing productivity, flexibility and quality of life. Each episode, I'm joined by a fantastic panel of expert guests for an open and interesting talk exploring the cutting edge of robotics. From the exciting new world that robots are helping to build, to dissecting the challenges and opportunities that come with it."
Subscribe now to The Robot Podcast wherever you get you podcasts, or via http://smarturl.it/therobotpodcast and https://global.abb/group/en/media/podcasts/the-robot-podcast

Companies in this article