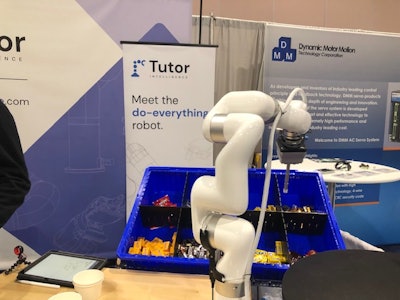 At PACK EXPO East, Boston-based startup Tutor Intelligence demonstrated a collaborative robot (cobot) performing pick and place of different sized and shaped materials—in this case, a variety of wrapped candies—in a kitting assembly application.
Using the Tutor Intelligence vision software, the cobot learns complex environments for kitting, feeding, and packing by seeing and understanding what's around it. It can handle irregular and variable items, including produce and textiles, and arrange them in bags, boxes, or trays. Some application areas include kitting subscription or meal boxes, cosmetic kits, and gift sets, as well as e-commerce fulfillment packing, food packing, and feeding conveyors, for example.
In addition, the technology is based on a hybrid human/artificial intelligence engine that enables deployment in minutes, not months, and has a simple web interface for easy configuration and changeover. The human-in-the-loop AI lets robots learn new tasks in new environments without custom programming.
"It's easier to set up than a printer," said Josh Gruenstein, one of the company founders. "No programming expertise is needed."
Referred to as "drop-in automation," the technology was designed by a group of researchers from the Massachusetts Institute of Technology (MIT) who were studying robot intelligence and learning. In 2021, the researchers, together with some MIT faculty members, formed the company Tutor Intelligence with the intent of changing the way people and robots work together.
To that end, part of the appeal of the vision system software—which is compatible with many robots and off-the-shelf or custom grippers—is that it is available in pay-by-the-hour leasing plans. Robots can be rented to work alongside or replace humans on the line. Tutor Intelligence is more than robot technology, Gruenstein said. "We are really a robot staffing agency."
Companies in this article