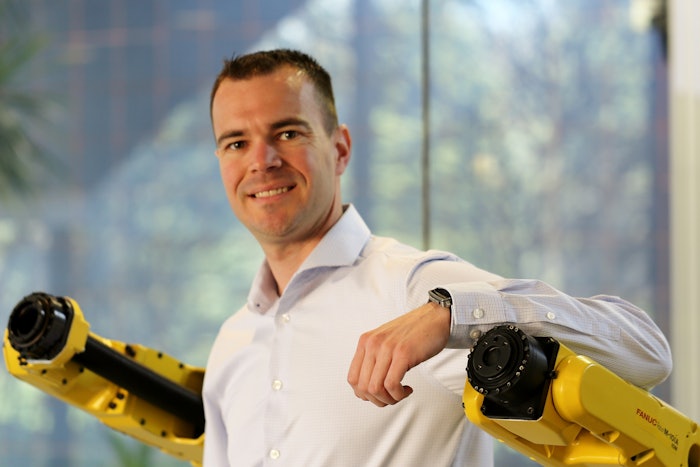 Wes Garrett's role at FANUC is to grow market share and increase unit sales as the account manager for authorized system integrator sales within FANUC's Pick/Pack/Palatize/Fulfillment department. After getting his Bachelor of Science in mechanical engineering at Michigan Technological University, Garrett started working with robotics in the automotive market at FANUC. He then wanted to make a shift into the packaging product segment as a product manager for FANUC's palletizer robots and software, which gave him more experience on the sales side of the packaging business.
Now, Garrett handles everything from building relationships with existing authorized system integrators, to finding and developing new integrators. He also helps produce three conferences a year to assist with authorized system integrator growth. Read on to learn how he got his footing in the industry and at FANUC.
OEM: What is it like working at FANUC as an emerging leader?
Garrett: The time with my company has been great. There are so many departments to work within. Since I have been with FANUC, I have been promoted to senior engineer and to account manager, while also holding titles from process engineer and product manager. FANUC has encouraged me to engage in the PMMI organization by attending the Executive Leadership Conference and Annual Meetings, along with sitting on the Emerging Leaders Committee. In addition to my involvement with PMMI, my company gives me a great amount of latitude to go and do what's needed to grow professionally.
OEM: How do you help your company innovate?
Garrett: I work very closely with my customers, the FANUCPackaging Segment, and FANUC Product Development to help enhance and bring new products to life that the packaging industry needs. This could be a new robot with unique payload, speed capability, or software that allows a robot to execute a task more efficiently.
OEM: What fascinates or intrigues you about the packaging segment, compared to the experience you had in the automotive space?
Garrett: The most fascinating part of my job is being able to help my customers solve packaging automation challenges and then see them come to life. What gets me excited about packaging is the variety of applications and products. I'm always looking for a new challenge and packaging has been great for this.
OEM: As an emerging leader, what were some obstacles you faced in your career and how did you overcome them?
Garrett: As an engineer by degree and mindset, I had to adapt to take on a sales role. I needed to leave behind the number crunching and details to focus on selling. Selling is a major departure from engineering, I keep my engineering hat in my back pocket but wear my sales cap prominently.
OEM: What advice do you have for other emerging leaders about getting involved in packaging or robotics?
Garrett: Get as much education as you can on packaging. Attend PACK EXPO and visit a packaging plant. It's crucial to understand all the processes involved from the beginning of a product's life to the end of line where it is shipped to the customer.
OEM: Are there any technology trends you are keeping an eye on?
Garrett: I have my eye on 3D vision and artificial intelligence as they continue to evolve. I'm keeping a close eye on the products available and where they can be best utilized in packaging or fulfillment.
Companies in this article