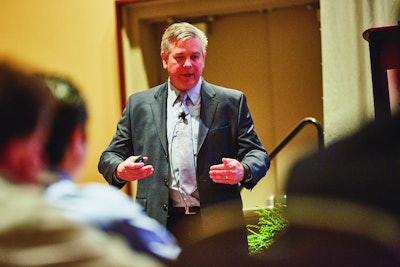 A crowd of packaging industry novices and veterans learned career tips from Ron Yakubison, Director of Packaging Technology Operations at Merck, Whitehouse Station, New Jersey. Yakubison, a 1992 graduate of Michigan State University, has worked in a variety of businesses at Merck since a stint as an intern 26 years ago.
Yakubison outlined core skills he believes are essential for success: leadership, project management, problem solving and technical writing. He stressed the importance of problem solving, "Getting to the true root cause of a problem is very important and not always easy to identify."
The ability to write a good technical report sets successful packaging pros apart. With email and texting, communication is so informal now, more formal writing tends to be overlooked. "However, there are times when a formal report is needed," he noted.
He recommended having an understanding of the equipment, process and materials needed for an efficient packaging system. The other imperative is a basic understanding of the product's supply chain and product usage.
Yakubison also stressed the importance of constantly learning and generating new ideas. One of the best places for new ideas is the shop floor. "Listen, listen, listen," he said, and take advantage of the knowledge of everyone from operators on the shop floor to lab techs and customers.
He concluded with a series of questions:
Do you have a system to process your work?

How do you manage your tasks?

Do you have the correct tools to do your job?

Do you block out time to think and plan?

Do you have a mentor (formal or informal)?

Do you have a sponsor?

How will do you invest in relationships?

Do you have a career development plan?

How are you building career development into your projects and activities?

Who is giving you feedback?

How are you measuring progress?

What constraints do you have?

Is your position fun?

If not, how can you make it fun?
"Having more fun on the job leads to more engagement, more empowerment and more success," he concluded.