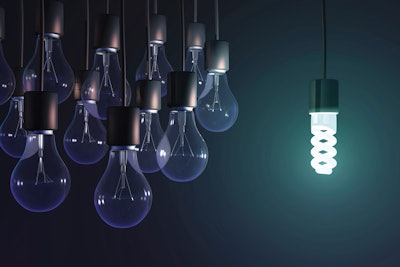 Titled, "Winning the New Innovation Game," Balan focused on the "changing landscape of the pharmaceutical industry and why we need a new innovation platform." He pointed out many of the well-known challenges faced by pharmaceutical manufacturers that spend upwards of $900,000 and take nearly a decade to get a new product from the idea stage to the patient, including regulatory approvals, clinical trials, etc.
"This is a nightmare for companies," he said. "The model has to be disrupted, and a new paradigm is needed," he declared.
The deliberate pace of innovation in pharmaceuticals, which he recognized is attributable to multiple factors, is especially conspicuous given the pace of change and marketplace innovation during the past five or so years. Balan pointed to the consumer electronics industry, and in particular the smartphone, noting that Apple didn't invent the phone, it didn't invent music, and it didn't invent photography, but it created a platform grown from combining contiguous industries. He described the process as "Platformation."
Balan told the Pharma EXPO audience that while the Chicago fire destroyed the city in 1871, it also led to a spirit of innovation that ended up with the city becoming one of the architectural capitals of the world. "We need to employ creative destruction. The automotive industry redefined itself by adding sensors, controls, and software. The healthcare industry ecosystem doesn't include just medical devices, biotechnology, pharmaceuticals, but also benefits managers, pharmacies, physicians/support personnel, and medical informatics, such as electronic patient records, and the sharing of information on social media.
"Pharma is being challenged from all sides," he added. "And that while consumers seeking better health represents the zeitgeist of our times. We have to think of ourselves as more of a health hub." As an example, he used CVS Caremark's name change to "CVS Health" for its company/pharmacies. "People want to express themselves and focus on health," he noted, again referring to Twitter, Facebook, and social media as examples.
Balan explained there are six factors or phases involved in a pharmaceutical innovation platform that can be thought of as separate rooms in a house. They are discovery, drug, domain, distribution, delivery, and decline. Accelerating each of these six phases will be critical to addressing the long time-to-market challenges. "The pharmaceutical market is very entrenched and conservative. We need to drive great products that are reflective of current life," said Balan.