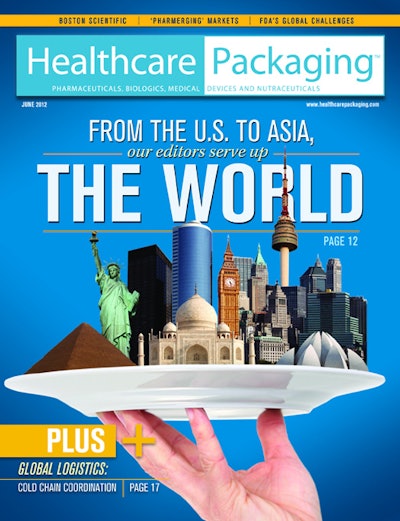 Summit Media Group's Healthcare Packaging has been selected as a leading media partner to grow attendance at PACK EXPO International's Pharmaceutical Pavilion. PACK EXPO is North America's largest packaging trade event, taking place this fall at Chicago's McCormick Place.
PMMI, owner and producer of the PACK EXPO family of trade shows, has long recognized the need for targeted exhibit areas at its annual PACK EXPO shows, to serve attendees' specific interests in a variety of markets. These sections include the Processing Zone, The Confectionery Pavilion, and the Brand Zone, among others.
Summit Media Group, publisher of Healthcare Packaging, is pleased to announce that PMMI has selected Healthcare Packaging to promote attendance to the Pharmaceutical Pavilion at PACK EXPO International 2012 in Chicago, October 28-31.
The promotional campaign, which runs from April until October 31, 2012, features magazine print ads and advertorials, website display ads, and a custom newsletter, "Rx Update, Innovations at PACK EXPO for Pharmaceutical, Medical Device and Biologics Packaging." The newsletter will feature videos of exhibits shot in the Pharmaceutical Pavilion last year at PACK EXPO Las Vegas. These booth videos communicate to prospective attendees the show's wide-ranging solution offerings such as OEE, validation, cold chain, anti-counterfeiting and serialization, and will be sent to Summit Media Group's Life Sciences database, as well as other key pharmaceutical and medical device databases.
Healthcare Packaging Publisher Jim Chrzan is excited at the opportunity to partner with the largest packaging show in the U.S. "The Pharma Pavilion encourages global participation," says Chrzan. "And our message stresses that while attendees come for the Pharma Pavilion, they will be able to find many other key suppliers throughout the show floor."
Chicago-based Summit Media Group, Inc. is an integrated media publisher offering business information for professionals in packaging and manufacturing automation. Print magazines include flagship monthly Packaging World, Automation World, Packaging World's PACK EXPO Showcase, Healthcare Packaging, and Contract Packaging. In addition to publishing a variety of newsletters, Summit also produces webinars and conferences and owns Web resource GreenerPackage.com.