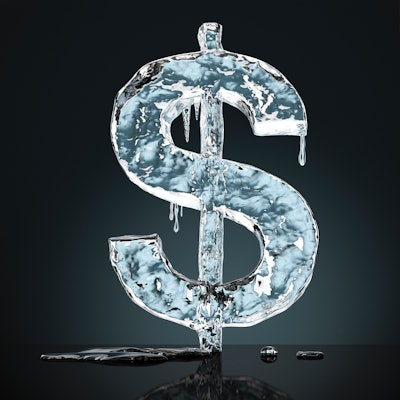 Are we there yet? Is it safe to say we're emerging from the uncertainty of a pandemic into the (forgive the now-cliché) new normal? Are we recalibrating to adjust to what global consumer trends monitor Mintel calls the "next normal?" If the results of the annual Institute of Packaging Professionals (IoPP) Salary Survey are any evidence, the answer seems to be "kind of." Uncertainty is diminishing, and confidence is returning. We're on the downslope, but we aren't fully there yet.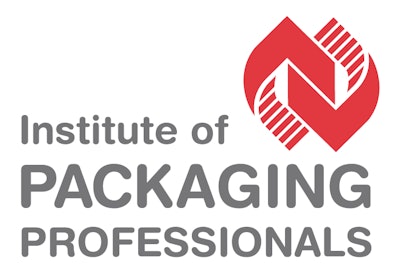 Getting down to brass tacks, overall reported salaries rebounded slightly in this year's reporting, up 5.7% after a dip last year. But only a little more than a third of this year's 828 respondents also took the survey last year, with another quarter who may or may not have (they don't recall). The remainder absolutely didn't take it last year. Since people are mostly different, the reported salary number is less of an indicator of what's happening than the reported change in salary. We're looking for change velocities more than dollar figures. And according to this year's crop of respondents, fewer people this year reported having received a traditional salary increase last year (63% in 2020 compared to 73% in 2019). Expectations for future traditional salary increases are flat from last year (71% expected to earn more in coming year in both last year's and this year's results). But the number of people worried about making less in the coming year dropped from 8% in last year to 5% this year, a hint of relief of anxiety. It feels like we're on the cusp of returning to normalcy.
Another suggestive clue is in bonus reporting. Last year, when responding at the outset of the pandemic, respondents were more worried than usual about not receiving bonuses (page 41) in 2020. But it looks like some of those worries were unfounded, with more people actually having received bonuses in 2020 than had expected to. And more people this year expect to receive bonuses than did last year, another hint of greater confidence. Notably, a common tactic for businesses in uncertain times is to maintain compensatory continuity in the form of single-year bonuses instead of more permanent, lasting salary increases.
Respondents fared awfully well in terms of pandemic employment, with only 1% reporting unemployment compared to the 8% (at time of writing, even higher when responses were collected) national average. That stands to reason. Packaging was proven an essential job function during the last 16 months, and lots of brands/CPGs fared extremely well, struggling only to keep up with demand. As long as food, bev, and personal care CPGs could handle the swing away from foodservice and hospitality, and toward retail and e-comm, business was good.
But respondents are still battle-worn from the last 16 months. One indicator that we're not fully back to normal is that people are exhibiting quite limited job-seeking behavior (page 42). People are still in "hunker down and hold on to what 'ya got" mode, and loyalty is high to companies who kept respondents employed in uncertain times. Job security is as high as we've seen it in this survey, and people are sticking around and avoiding the risk of seeking greener pastures.
---
| | |
| --- | --- |
| | Read last year's 2020 IoPP Salary Survey to compare trends to this year. It's notable that responses were collected for last year's 2020 Salary Survey while the pandemic spread and uncertainty was high. People were reasonably upbeat, but not as confident as this year. |
---
One noteworthy finding was a fairly clear distinction between generations, age groups, and experience levels. Younger and less experienced folks exhibited the most confidence in their future, and the most upward mobility (as stands to reason when early in careers). There's a magical 'five years of experience' marker that seems to be a jumping off point for the greatest salary increases (percentage wise). With a tight and tightening job market, people are making more at lower age, education, and experience levels, though an undergraduate degree offers greater momentum. Obviously, the highest age, education, and experience levels command the highest salaries. But even so, upward mobility is diminished at that plateau, and there's less confidence in continued earning momentum. Notably, we saw the words "age," "ageism," and "continued relevance" frequently listed, unprompted, as threats to job security in the verbatim section, something we haven't noticed previously.
As our magazine's cover indicates, it feels like the post-pandemic thaw is on. The usual indicators of uncertainty that peaked last year are waning, and confidence in a more lucrative tomorrow (more by way of bonus than of traditional salary increase) is improving.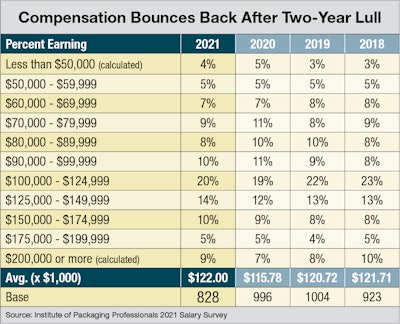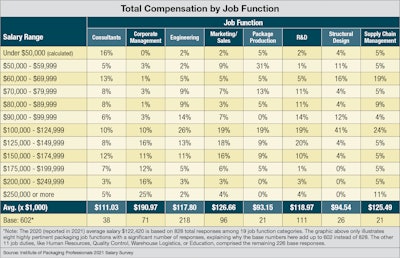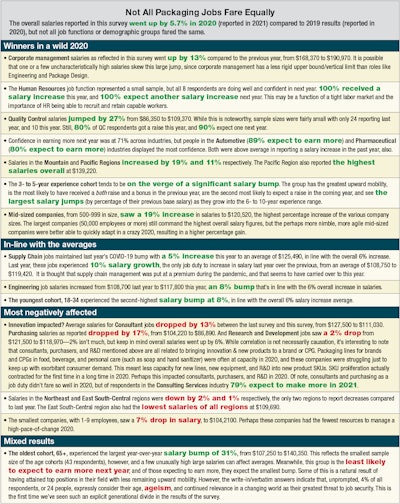 Findings on Raises and Bonuses
Lots of companies understandably tapped the breaks on traditional salary increases in 2020. Even so, respondents' confidence in earning more this year than in the previous year has returned after early pandemic anxieties about making less than the previous year. Some companies appear to have opted for single-year bonuses instead of more permanent traditional salary increases (raises) to keep compensation temporarily steady while mitigating future uncertainty.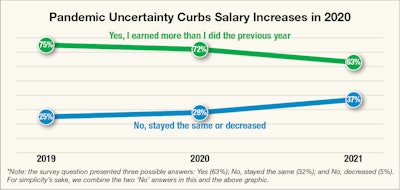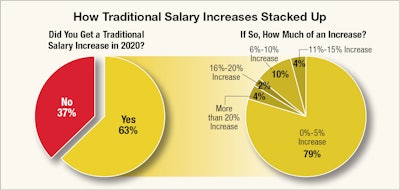 General Employment Seeking and Job Security Findings
After highly uncertain year, respondents have weathered the storm well. In this year's findings, they tend to be sticking around at their current companies, are less likely to be seeking new employment elsewhere, and are enjoying stronger job security than we've seen in recent years in this survey. The pandemic helped demonstrate how essential the packaging function is to CPGs and brands, resulting in a robust combination of loyalty, retention, and job security.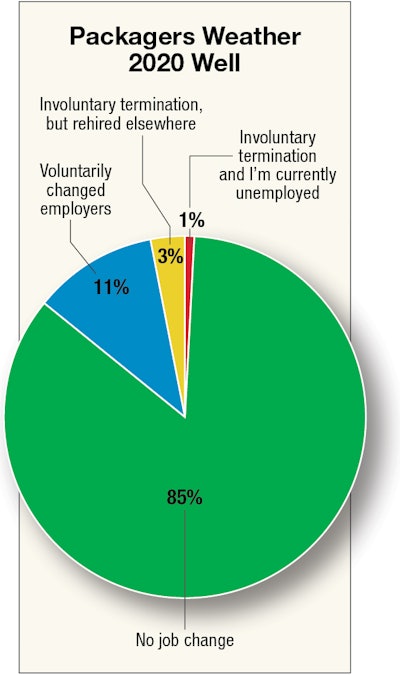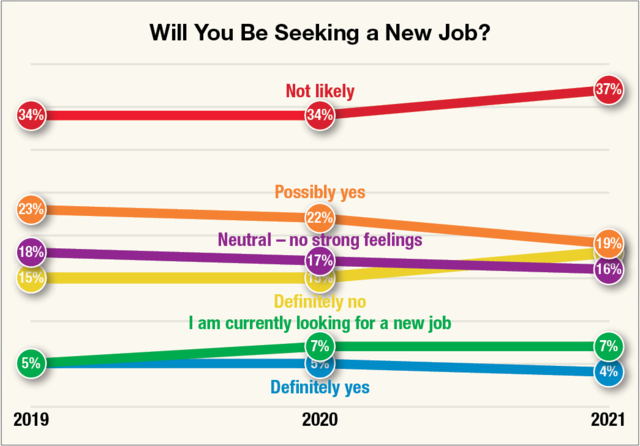 Respondents are less likely to be possibly, definitely, or currently seeking a new job than they were in previous years. In times of uncertainty, people tend to mitigate the risk that comes with trying something new. Of course, this is not universally true, but there's a tendency towards being conservative and holding on to an existing position. And indeed, compared to the previous year we see a 6% combined increase in people who are either definitely not or probably not seeking a new job.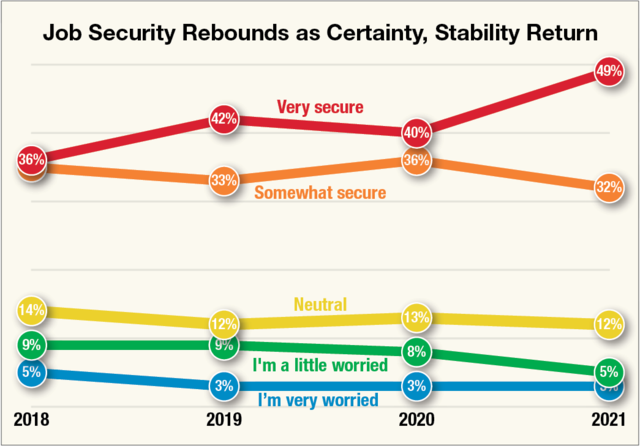 Job security is as high as it has been in the last five years, jumping by 9 percentage points over last year. It's important to note that much of the data last year was being collected at the outset of the pandemic, so uncertainty was high.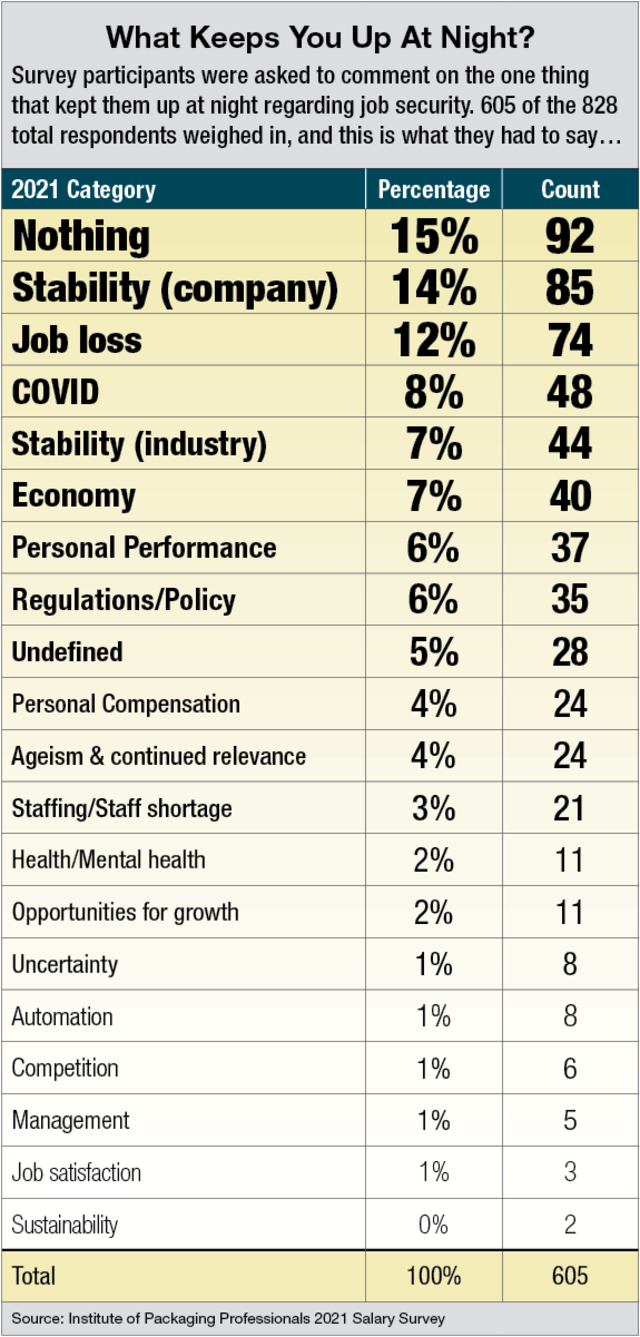 What Keeps You Up At Night? Survey participants were asked to comment on the one thing that kept them up at night regarding job security. 605 of the 828 total respondents weighed in, and this is what they had to say.

Companies in this article