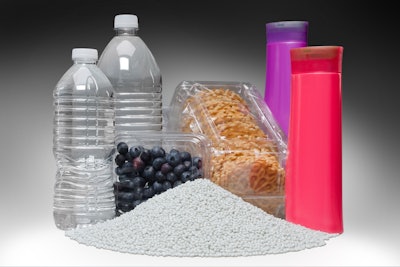 LNO w resin is designed to be used with both blow molded and thermoformed applications for water, cold-filled beverages, deli trays, fruit tubs, etc. It is suitable for packages not subjected to heat (either in the filling process or during consumer usage) or need the rigorous performance attributes required by certain food applications. It can be used at levels up to 100%, or blended with virgin PET.
LNO w resin complies with the Food & Drug Administration's letter of no objection issued to Phoenix Technologies for the following conditions of use: room temperature filled and stored (no thermal treatment in the container); refrigerated storage (no thermal treatment in the container); frozen storage (no thermal treatment in the container).
LNO w is said to be 5- to 8-% less expensive than Phoenix's rPET grades used for containers that are subjected to thermal situations. (Pricing is dependent on fluctuations in raw material costs.)  The new grade is the third product in the company's LNO rPET line. LNO w resin joins the company's food grade LNO p and LNO c resin, plus the non-food grade NLP resin.
The LNO process relies on the company's patented "small particle size" technology. The particle size is directly related to decontamination efficiencies usually resulting in faster output and significant energy savings.
Companies in this article