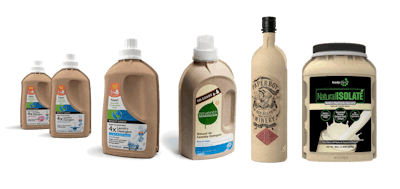 Ecologic Brands, makers of America's first recycled paper bottle and the award-winning eco.bottle® line, has completed the first close of a $7 million round of financing. Investors include a strategic investment from Kruger Inc. and current Angel investors, DBL Investors, Catamount Ventures, and Black Bear Partners.
As part of the investment agreement, Kruger will become the exclusive licensee and manufacturer of Ecologic's paper bottle technology in Canada. Kruger's Consumer Products Division currently serves the U.S. and Canadian markets with numerous well-known tissue product brands, and the eco.bottle will open doors to other types of consumer-facing goods.
According to Ecologic, Kruger's strategic investment in the company will unlocak synergies between two highly complementary partners, the most obvious being Kruger's manufacturing, supply chain, and paper technology with Ecologic's patented molded fiber technology. This will help scale Ecologic's current manufacturing capabilities rapidly, while tapping into over 100 years of Kruger's industry experience in pulp and paper products, containerboard and packaging, lumber, recycling, and renewable energy.
Since commercializing its first paper bottle in 2011 with Seventh Generation Inc., Ecologic has manufactured and shipped millions of bottles to 15 brand partners around the world. Currently, 30% of Ecologic's business comes from the export of its eco.bottle. Its customers also include Safeway, Bodylogix, and Truett-Hurst. The company is poised to scale its operations after building a manufacturing facility in Manteca, CA, last year and now forging a partnership with Kruger.
Companies in this article