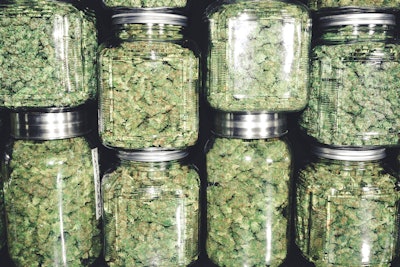 Green packing represents a significant trend arising for cannabis products, with efforts to package these products in materials that are recyclable, biodegradable, and compostable.
That takeaway comes from new Reports and Data research on the global Cannabis Packaging Market that it expects to reach $5.2 billion by 2026.
Citing the Association for Packaging and Processing Technologies, the report notes that marijuana has been legalized at some or the other level in 28+ states and is pending further legalization in 13+ others.
"This exponential growth, along with an attribute of self-funded small organizations, has helped legitimize its use in the eyes of many. By 2020, it is anticipated the industry is expected to reach $24.5 billion alone in the U.S., with $11.2 billion for recreational products. While 89% of customers preferred flowers in 2017, by 2020 only 61% of customers will prefer flowers, instead favoring concentrated, processed weed formats," says the report.
Further key report findings include the following:
• The U.S. region accounted for a significant share and is expected to grow at a CAGR of 18% through 2026.
• Citing PMMI, the report says inconsistent legal status between state and federal laws is a ubiquitous challenge facing the manufacturers. Other problems include separate RFID tags for the plant and packaged product, the resistance of financial institutions to work with companies, and strict FDA regulations. Packaging for weed products is highly regulated with requirements for child-resistant and resalable lids [with] tamper-evidence and opacity. Formats also differ for the different forms of cannabis, with a flower in glass jars and tubes, concentrates in heat-proof, borosilicate, glass or polystyrene containers, and edibles in resalable smell-proof bags.
The report breaks down marijuana package types, including rigid (trays, plastic tubes and others), semi-rigid (box inserts and others) and flexible (blisters, clamshells, shatter containers and others). In terms of packaging materials, the report discusses plastic jars, vials, hinge-top containers, boxes, bags, tubes, tails and others). It also discusses metals, glass and paperboard materials.