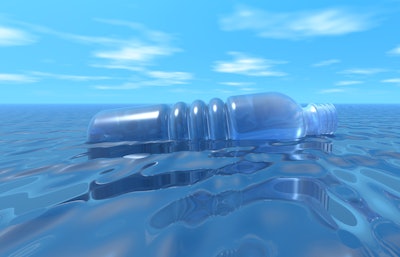 A white paper released today by non-profit foundation Ocean Wise and PAC Packaging Consortium (PAC) addresses the issue of plastic pollution caused in marine environments by packaging litter. The report, titled "Ocean Plastics: What the Packaging Industry Can Do," notes that microplastics—bits of plastic smaller than 5 mm—pose a major hazard to aquatic life and recommends taking a more holistic approach to packaging design to help reduce the amount of plastic that makes its way into the ocean.
The white paper proposes that such elements as single-use and small-format packaging and lightweight 2D items like lids and caps be redesigned to discourage the separation of elements, so they're recycled together. Optimizing packaging would include re-evaluating the correct amount of packaging to avoid unnecessary waste. Ensuring that packaging can be collected and reused is also key. The paper is being released in conjunction with an on-site meeting today at Vancouver Aquarium, an Ocean Wise initiative, which is part of PAC's Innovation Roadshow.
"We're bringing the science. They're bringing the solutions," says Alexis Esseltine Scoon, Sustainability Manager, Vancouver Aquarium. "Ocean Wise has been a leader in the arena of microplastics pollution research for years. With this collaborative research, we're melding our knowledge of the issues affecting the ocean with industry knowledge of what's possible to create real change that will help ensure the health of our oceans for future generations."
Since March, 2018, Esseltine Scoon's team has worked with Dr. Peter Ross, Vice President of Research at Ocean Wise and Executive Director of the Coastal Ocean Research institute (CORI), along with his team to distill their scientific research on the effects of plastic on ocean ecosystems, for a member webinar and now, the white paper. Concurrently, Rachel Morier, Director of Sustainability at PAC, and her team continue to examine what the industry can do to tackle the problem of plastic packaging making its way into the ocean.
"With many consumer packaged goods companies committing to more sustainable packaging by 2025, there is an opportunity for significant change," says Morier. "The packaging community is listening. Instead of pointing blame, we want to encourage a constructive and collaborative dialogue that leads to real solutions. Our partnership with Ocean Wise brings a science-based approach to eliminate packaging misconceptions and to help inform business decisions that advance a circular economy."
The paper, co-authored by Esseltine Scoon and Morier, explains that scientists categorize plastics by size. "Primary" microplastics are manufactured as microbeads or plastic production pellets called nurdles, used in things like cosmetics or pre-production plastic. "Secondary" microplastics are the result of larger plastic items like food packaging breaking down into smaller pieces. Either way, microplastics are insidious.
Consumed by zooplankton that are then ingested by larger ocean creatures, their chemical additives harm marine organisms, may nurture unique and even pathogenic bacteria, and are likely to persist for hundreds to thousands of years, the paper explains. Glass, paper, steel, and aluminum, on the other hand, eventually break down in ocean water, into less harmful components like glass that turns into sand.
Educating the public on proper disposal, supporting marine cleanup projects by using ocean plastic in packaging, and understanding biodegradable and compostable packaging alternatives and labeling them accurately as such are all important aspects to consider.
The Vancouver Foundation funded Ocean Wise's participation in the partnership, which began with a webinar hosted by Ocean Wise and PAC to inform members of the packaging community about the effects of plastic packaging on the ocean.
Five out of seven leaders of the G7 countries, including Canada, signed the Ocean Plastics Charter in September in Halifax, vowing to reduce the amount of plastic litter that winds up in the ocean. Major companies such as Coca-Cola, Unilever, and Nestle also vowed to create more environmentally sustainable packaging for their products.