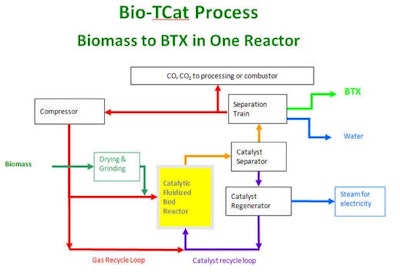 Sustainable technology company Anellotech recently achieved new milestones at its TCat-8® pilot plant in Texas, thereby progressing its 100% bio-based bottle collaboration with global consumer beverage company Suntory.

Anellotech's pilot plant is using Bio-TCat™technology, a thermal catalytic process that converts non-food biomass feedstock material into BTX aromatics, a group of renewable chemicals identical to their petroleum-based counterparts. The first shipment of BTX has now been sent to joint development partners IFPEN and Axens for purification studies to make bio-paraxylene, which is the key aromatic chemical needed to make 100% renewable beverage bottles a reality. Bio-paraxylene from TCat-8 will be used to make renewable PET resin for prototype bottle manufacture and product testing.

Since the announcement of a successful two-week continuous pilot-plant trial in March 2018, more than 1,200 hours of cumulative onstream time have been achieved at TCat-8, while BTX has been generated for product testing and evaluation, and process development data collected for future commercial plant design. Anellotech also continues to produce other aromatic products through its Bio-TCatT process, including benzene and toluene.

Says David Sudolsky, President & CEO of Anellotech, "Following our announcements earlier this year on process development and continuous operation, we are glad that significant progress continues at our TCat-8 pilot plant. We continue to move the technology towards commercialization, and shipping the pilot plant's product for downstream evaluation is another major milestone. Having collaborated with Suntory since 2012 to advance development of cost-competitive bio-aromatics, we hope bio-based plastics made from our Bio-TCat process and a 100-percent bio-based bottle soon become a reality."