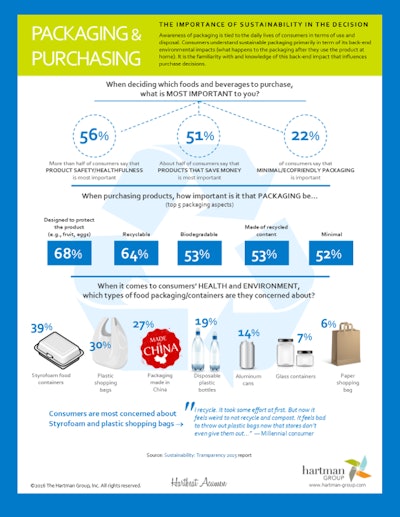 A new infographic, taken from The Hartman Group's "Sustainability 2015: Transparency" report, details the importance to consumers of more eco-friendly packaging.
Says Hartman, ultimately a product's essential makeup most strongly influences perceptions of its sustainability and motivates adoption. However, consumers view sustainable packaging options as a "simple" measure that all manufacturers can take, and therefore, a minimum requirement for all products, even if the product itself does not resonate as sustainable.
Packaging is primarily evaluated based on potential impacts to the environment. In terms of zone salience, therefore, every packaged product is at least tangentially connected to the environmental zone of sustainability. Although a product's essential content and use are more strongly emphasized by consumers, earth-friendly packaging may be a first step for manufacturers in creating a more environmentally responsible halo for its products.