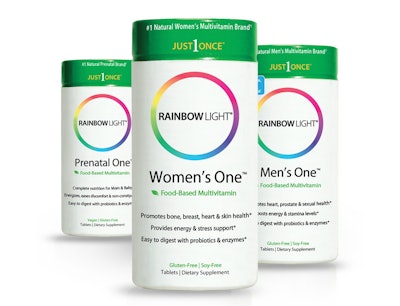 Natural multivitamin brand Rainbow Light has launched its Path to EcoGuard environmental health campaign to activate solutions to the toll plastics are taking on the oceans. In less than nine years, there will be one ton of plastic for every three tons of ocean fish, reports the 5 Gyres Institute, a nonprofit research organization dedicated to design and policy change.
In addition to an award-winning video on the ocean plastic crisis, Rainbow Light has launched a microsite to provide free sourcing and operational information on its trademarked EcoGuard 100% recycled bottles to help other conscious companies evaluate sustainable packaging options. EcoGuard packaging is FDA-approved food-grade, BPA-free recycled plastic. According to Rainbow Light, use of the package is helping it to keep approximately 10 million plastic bottles from waterways and natural habitats every year.
"Twenty-five years ago, Rainbow Light commissioned the industry's first environmental impact study to establish best practices for reducing its packaging footprint, and it was clear that single-use plastic was the worst offender," says Ildiko Kiss, General Manager of Rainbow Light. "Rainbow Light also learned that converting to recycled plastic containers would reduce its carbon footprint sevenfold over any other alternative."
Rainbow Light worked with leaders in sustainable packaging to refine EcoGuard 100% recycled-content bottles, which have now reduced the company's carbon footprint by 92%. "By providing conscious companies ready access to our container suppliers, Rainbow Light hopes to speed positive change and create a forum to explore solutions to protect the precious health of our oceans for future generations," Kiss says.
Currently, up to 95% of plastic packaging—valued at $120 billion—is lost after one use, according to Rainbow Light, which also notes that recycling plastic can take 90% less energy than making plastics from raw materials.
5 Gyres Institute has documented upwards of 270,000 tons of plastics floating in the world's oceans. "We've turned our oceans into a plastic smog," explains Anna Cummins, founder of the 5 Gyres Institute. "Plastic doesn't biodegrade, but it does photodegrade, meaning sunlight and wave action turn plastic into sand-sized particles that stay in our oceans for decades. These plastics are easily mistaken for food by foraging animals, and enter the food chain that sustains us. By polluting the oceans and waterways, we're really polluting ourselves."