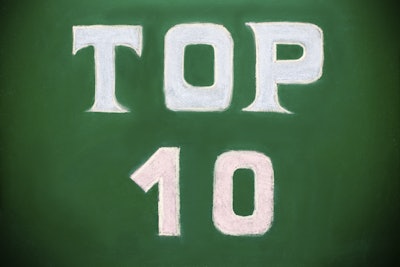 If there is a trend in the wide array of topics that make up the Top 10 list of most-read articles on GreenerPackage.com in 2014, it is that stories focusing on practical, manageable strategies have overtaken those that deal with pie-in-the-sky theories. As the fervor around buzzwords such as 'scorecards,' bioplastics, and composting has died down, packagers have gotten down to business learning how to implement sustainability in their own packaging. Note the number of how-to and trends pieces on this year's Top 10 list.
Visitors also enjoyed reading about the sustainable packaging successes of their peers, especially the number-one story on our list, which also came in second in packworld.com's Top 10 list for 2014. 
Drum roll please!
10. From plantation to mill: Asian paper company's 'unprecedented' sustainability commitment: A visit to Asia Pulp & Paper's Chinese operations puts in context the company's comprehensive sustainability commitments from plantation to pulp to paper.
9. Stand-up pouch for LEGO Hero Factory delivers BIG benefits: New flexible pouch package for LEGO brick toys wins a Flexible Packaging Assn. Gold Award for Sustainability and Environmental Achievement.
8. Tools for making your sustainable packaging stick: To create a successful sustainable packaging, follow these tips to determining your objectives and executing your resulting strategy.
7. Eight design and technical resources for sustainability: Shortly after it was founded in 2004, GreenBlue's Sustainable Packaging Coalition (SPC) began producing a steady series of reports, research, and software tools designed to allow package developers to make informed and responsible decisions around sustainable packaging. Here's an overview of some of the most important reports.
6. Walmart launches eco-friendly household cleaners: The new Great Value Naturals line of all-natural household cleaners from Walmart uses recycled-content bottles and 100%-plastic trigger sprayers that can be easily recycled.
5. Which one has a smaller footprint? Plastics or alternative materials?: Alternative packaging materials may be sexy, but how do they compare with petroleum-based plastics when it comes to energy use and greenhouse gas emissions?
4. Nespresso launches compostable collection bag for coffee capsule recycling: Made from paper-based materials with a biopolymer coating, a new collection bag for Nespresso allows Austrian consumers to conveniently gather coffee capsules for recycling.
3. Top five packaging trends for 2015: Packaging—irrespective of industry sector—continues to undergo an array of important changes that brands and senior-level executives must be attuned to in 2015.
2. Four trends driving corrugated packaging growth: The environment, lightweighting vs. heavyweighting, Internet shopping, and printing are identified as the four top trends driving the rapid growth of the corrugated packaging industry.
1. PaperBoy paper wine bottle a U.S. first: Winemaker Truett-Hurst launches a fully recyclable, molded-pulp wine bottle to appeal to eco-conscious, on-the-go wine lovers, selling a quarter-million bottles in the first 60 days.