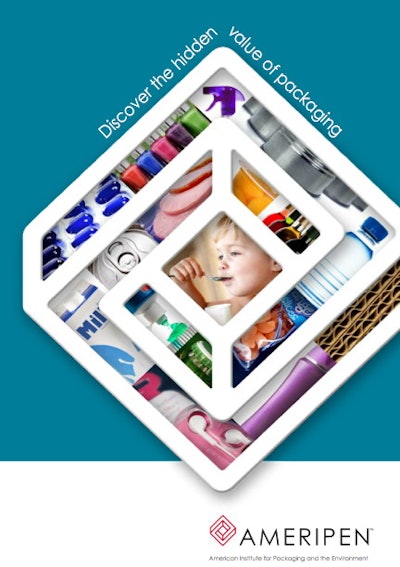 A new brochure from AMERIPEN begins, "There is great interest in finding ways to reduce or even eliminate packaging. This concern is due largely to the public's perception that much of the packaging they experience is unnecessary and even wasteful.
"The reality, however, is quite different. An objective, science-based approach reveals
that packaging protects the economic, environmental, and social value of the products it contains. In fact, effective packaging actually helps prevent waste."
The seven-page, four-color brochure, entitled "Discover the Hidden Value of Packaging," then details the economic, environmental, and social benefits of packaging.
Under the Economic Benefits section, the brochure provides the example of salad. "This has typically required buying the ingredients separately, unpackaged. Since we usually don't eat the entire vegetable, however, preparing a salad produces waste and also consumes water in the cleaning process. If instead we buy pre-packaged bags of ready-to-eat salad, only the edible parts are included. The rest is used for animal feed, providing additional economic value. Transporting only the edible ingredients produces more efficient results per unit of transportation, helping reduce both fuel consumption and related carbon dioxide output," according to AMERIPEN.
The brochure is available free for download on the AMERIPEN site.