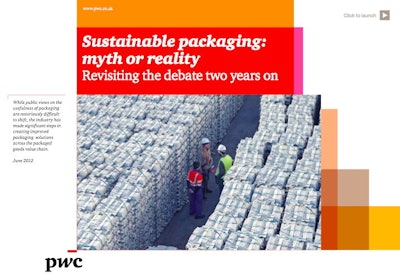 "Sustainable packaging as a term is no longer relevant today as the debate about good vs. bad packaging has moved on." That's the conclusion of a new study by PricewaterhouseCoopers LLC (PwC), which posed the question, "Sustainable packaging: myth or reality." According the executive summary, the 24-page report set out to "revisit the packaging debate [addressed by PwC in 2010] and track the progress towards closer collaboration and common language that goes beyond the phrase 'sustainable packaging.'"
Through interviews with representatives from the four key stakeholder groups driving the development of sustainable packaging—retailers, fast-moving consumer goods (FMCG) companies, packaging manufacturers, and government and trade bodies—PwC concluded that industry has moved toward a shared understanding that "the product, its packaging, and the related supply chain has to be viewed as a single solution."
Relating the findings from discussions with packaging manufacturers, the report reads: "The past two years have seen the industry take an active role in the debate, but emphasizing that packaging is only a part of the wider sustainability story. The industry as a whole has argued that focusing on packaging alone in the sustainability debate is counterproductive and shortsighted. As a result the industry has increased its communication efforts, particularly in explaining to the public why and how packaging is used, the contribution that it makes to a sustainable society, and how consumers can play their part in the life cycle."
As part of the study, Jane Bickerstaffe, executive director of the U.K.'s INCPEN (The Industry Council for Packaging and the Environment), is quoted as saying, "Companies have shifted their attention from addressing just one issue or a selection of issues on one topic to a more holistic approach incorporating economic, environmental, and social considerations."
Complementary conclusions
Another conclusion of the study, PwC relates, is that stakeholders are engaging in greater collaboration to ensure the objectives for sustainable packaging are aligned. "It's evident that the packaging industry, retailers, and suppliers are putting aside their traditional views of commercial sensitivities and the 'silo' approach to sustainability," says the report. "In its place is a willingness to develop an overall solution to sustainability that covers the entire life cycle."
Notes study participant Michael Wilson of Diageo, "Our approach hasn't changed dramatically, but we are looking to collaborate more with our suppliers and customers. Collaboration up and down the supply chain is the way forward, with technology and innovation being the crucial components of progress."
To facilitate this collaboration, PwC reports, the industry has come together to construct a uniform language around sustainable packaging, as well as standard metrics and key performance indicators. This refers to the Global Protocol on Packaging Sustainability, launched by the Global Consumer Goods Forum in September 2011.
Says Anne Roulin, also of Nestle, "We have better tools available to analyze environmental impact than ever before. Life cycle assessment is the tool of choice, and it is fully embedded into our R&D processes."
Tools for change
According to the study, "new packaging materials, improved efficiency processes, and 'smart design' products are all helping to improve the impact of packaging across the supply chain."
Among the technologies (for both product and packaging) cited by PwC as having the potential to create greater packaging efficiency are:
• Product reformulation
• The use of filler materials
• Nanotechnology
• Paper manufacturer UPM's development of fibril cellulose
• Printed functionality, sometimes known as printed intelligence
• Retail-Ready Packs (RRPs)
In conclusion, PwC reports that the evolution of efficient packaging solutions will be shaped by the cost of materials; breakthroughs in new technologies; the security of supplies such as fiber, glass, PET, water, and electricity; consumer demand for convenience; and finding sources of competitive advantage in falling consumer spending.
Methodology
Participants in the study included The Alliance for Beverage Cartons and the Environment (ACE) UK, Diageo, INCPEN, Marks & Spencer, Nestle, Procter & Gamble, and Rexam. PwC relates that it also drew conclusions from other PwC publications, EU Commission Web sites, and various analyst sources, including Datamonitor, PIRA, and Kantar.