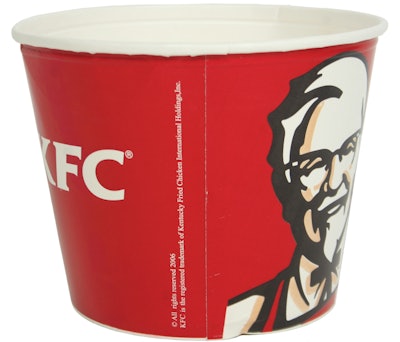 "KFC is trashing rainforests for throw-away packaging like chicken buckets," notes Greenpeace.
Referring to itself as "the largest independent direct-action environmental organization in the world," Greenpeace says its new report, "How KFC is Junking the Jungle," "exposes how KFC, and parent company Yum! Brands, are trashing rainforests critical to endangered tigers, and what the company can do about it.
"The fix is simple: make global paper buying standards that cut out deforestation and rainforest destruction. Plenty of other major companies have already done so," notes Greenpeace.
The organization points the finger to Asia Pulp and Paper (APP), "exposed many times for wrecking Indonesia's rainforests and recently for its use of illegal timber—has been confirmed as a supplier to KFC."
Efforts to gain comments from KFC/Yum! Brands were not successful, but the company's Web site now includes a sustainability media statement in which a spokesperson says, "60 percent of paper products we purchase are sourced from sustainable forests, and suppliers are moving toward 100 percent."
KFC/Yum! Brands is not the first company Greenpeace has pressured regarding its package material sourcing, GreenerPackage.com reported last October, "following public pressure from Greenpeace, Mattel Inc. announced new sustainable sourcing principles for the procurement of paper and wood fiber for its packaging and product."
And last July, environmentalleader.com noted, "Lego has bowed to pressure from Greenpeace, reportedly agreeing to drop supplier Asia Pulp and Paper, and the toy company says it will only use packaging material certified by the Forest Stweardship Council from now on."
Photo courtesy of Greenpeace