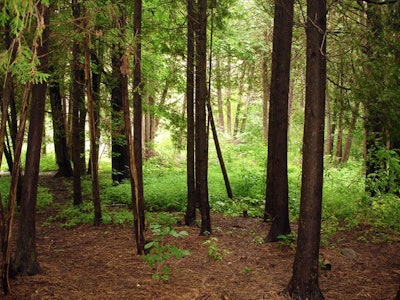 Sustainability nonprofit GreenBlue has launched its new Forest Products Working Group, a working group with cross-industry representation of leading companies committed to addressing unmet needs in the forest products sector.
The Forest Products Working Group will focus on developing practical tools and resources to address forest resource challenges and opportunities. The founding members today include Avery Dennison Corp., Avon Products, Inc., Bank of America, Catalyst Paper, Domtar, HAVI Global Solutions, Sappi Fine Paper North America, and Staples.
"We're delighted to have such diverse representation of major companies coming together to develop innovative solutions for the sustainability of forest products," says GreenBlue senior program manager Tom Pollock, who is leading the initiative. "We believe better corporate decision-making around forest products can help address critical issues such as climate change, resource efficiency, forest health, and biodiversity. The emphasis with this group from the start will be on meaningful and measureable outcomes to help shape a better future for forests."
Founding members convened for the first time in early October to begin laying the groundwork and direction of the working group with plans to begin seeking additional members in early 2012. The focus of the Forest Products Working Group is on new and innovative thinking with initial topics that may include strategies for maximizing the quantity and quality of recovered paper, increasing the availability of certified fiber, and extended producer responsibility.
GreenBlue says that it brings significant expertise in the forest products sector thanks to its 2009 acquisition of Metafore, a nonprofit focused on environmentally preferable wood and paper products. Building on this work, GreenBlue launched its new Forest Products program earlier this year, which includes projects such as EPAT®, a Web-based application to assess the environmental performance of paper; the Paper Life Cycle, an online resource that provides key environmental information about the sourcing, production, use, and end-of-life of paper; and the Corporate Forum for Paper and the Environment, a collaboration with the Forest Products Association of Canada to bring together paper and pulp buyers and sellers.